Team-building exercises are an important part of a child's education. They assist young students in developing important interpersonal skills such as communication, cooperation, and problem-solving. Students may promote a sense of togetherness and create a more pleasant and productive learning environment by collaborating with their peers. This blog article will look at five team-building tasks for kids at school that can help them improve academically and socially.
Why are Team Building Exercises Necessary for Kids?
Team building activities are an important part of every school's instructional framework since they provide multiple benefits to both students and the educational institution. School officials, teachers, and school counselors can help student development, especially using team-building activities. These activities inculcate important life skills in kids, such as communication, problem-solving, and cooperation, which are necessary for their personal and academic growth. They promote strong relationships among students and foster a feeling of community, ultimately boosting the overall school climate.
Furthermore, team-building activities for students can assist in alleviating difficulties like bullying and isolation while also developing a culture of mutual respect and understanding. As educators and school authorities, we recognize that these activities not only improve the learning experience but also help the school's reputation and success. They lay the groundwork for collaboration and empathy, which may have a good influence on our children's intellectual and social development as well as their mental health in school, preparing them to excel in both school and life beyond it.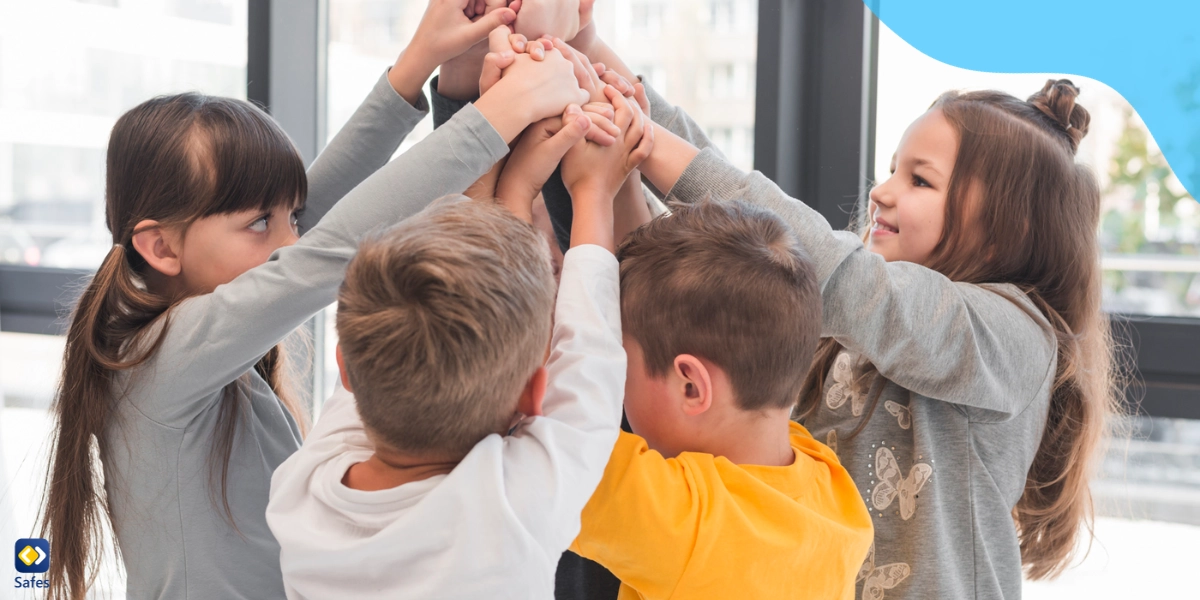 The Human Knot
The Human Knot is a traditional team building activity for teens that promotes collaboration and communication among students. To begin, have pupils form a circle facing each other and extend their right hands to the middle of the circle. Then, each kid should reach out and hold the hand of a classmate who is standing across from them. Students then reach their left hands toward the middle of the circle and clasp the hand of another student. The goal is to untie the "human knot" while holding each other's hands. This practice encourages problem-solving, communication, and cooperation.
Marshmallow Tower
The Marshmallow Tower activity allows students to work together to create a tower in a fun and creative way. Provide marshmallows, dry spaghetti, and tape to each student group. Their mission is to build the highest freestanding structure possible utilizing these resources in the shortest amount of time. This practice promotes collaboration, strategic thinking, and the ability to adapt to new problems.
Minefield
Minefield is a problem-solving and trust-building outdoor team-building exercise. Create a "minefield" in a predetermined area using items such as cones, hula hoops, or other markers. Form groups of pupils into pairs, with one partner blindfolded and the other functioning as a guide. The guide must verbally teach the blinded companion on how to safely cross the minefield while avoiding the hazards. As the students work together to achieve their goal, this activity builds trust, good communication, and collaboration. This is an outdoor team building game for 10–12-year-olds, we suggest you try.
Escape Room Challenge
Escape rooms are a popular team-building exercise that may be modified for use in the classroom. Make a scenario or problem for pupils to solve in a given amount of time. Divide the kids into teams and give them clues, puzzles, or tasks to fulfill in order to "escape" the room. As students work together to analyze the clues and complete their task, this activity promotes critical thinking, cooperation, and problem solving. This is a great indoor team building game for 10–12-year-olds though it can also be used for other age groups.
Group Storytelling
Group storytelling is a fun team-building activity that encourages imagination and teamwork. Begin with a short line or situation, then have the children add to the tale in turns. Each kid adds a line or an idea to the tale, building on what came before. This practice promotes not just collaboration but also listening skills and creativity. This can be quite a fun experience as a classroom team-building activity in high school.
Conclusion
Team-building exercises in school are critical for children's overall development. These classroom team-building activities assist children in developing social skills, improving communication, and learning to collaborate successfully. You can create a more cohesive and collaborative learning atmosphere in your classroom by adding these five team-building exercises. If your classroom isn't willing to take part in these activities you can encourage them using an app like Safes School. Using Safes School, you can easily manage your students' screen time, track their location, and much more which can be used for both positive and negative reinforcement. Students will feel supported and encouraged in their learning motivations to flourish both academically and socially.