Tiger parenting is a term used to describe a parenting style strict and authoritative. Tiger parents tend to micromanage their children's lives frequently to make sure they live up to their high expectations. In this blog post, we will answer the question: What is tiger parenting?
At first glance, you are inclined to think about parents with aggressive behaviors and harsh discipline; you may not be wrong.
This parenting style has its roots in certain Asian countries, particularly in East Asian cultures such as China and Japan. Since for many East Asian families, education is viewed as the key to success in improving one's social standing, they choose this parenting style for raising their children.
Tiger parenting is still relevant in today's parenting landscape due to its complex connection with cultural, social, and educational factors. But does it have any benefits for children? If you want to know if tiger parenting is good or bad as well as recommend some balanced approaches to parenting, read the rest of this article.
Understanding Tiger Parenting
High expectations, strict discipline, and a focus on academic achievement are some of the key characteristics that are related to tiger parenting. Let's delve deeper into this issue and learn more about its features. Here are some of the examples of the tiger parenting method:
Limited autonomy: Children may not have much say in their academic and extracurricular choices in a home where a tiger mom is living.
Comparison with peers: Tiger parents compare their children with other high achievers to motivate them to outperform their peers in different areas.
Constant supervision: They might frequently check their children's homework, ensuring that all tasks are performed perfectly.
Cons of Tiger Parenting
Although this parenting style aims to achieve high levels of success, it can have several drawbacks and potentially negative consequences. The following are some of the major negative aspects of this parenting approach:
Increased anxiety
Lack of individuality
Decreased self-confidence
Fear of failure and defeat
Difficulty with social skills
Mental health problems
As a parent, if your goal is to produce a happy, healthy, and well-adjusted adult, it's better to find a balanced approach to parenting. A balanced parenting style focuses on a child's development in all aspects, including academic success, emotional well-being, and independence.
The Middle Ground: Combining Tiger Parenting with Positive Parenting
A comprehensive strategy for parenting can be provided by combining aspects of tiger parenting and positive parenting. It recognizes the value of achievements while promoting emotional well-being. Here are some techniques that can be used by parents to build an atmosphere that fosters high expectations while providing emotional support:
Set Clear Expectations
Establish clear and achievable expectations for your child's academic and personal goals. Discuss educational expectations clearly with your child and make them aware of your standards.
Promote Independence
Encourage your child to take charge of their goals and responsibilities. However, they need your guidance in setting their targets and planning their schedules.
Create a Positive Atmosphere
Make your house a place where progress, optimism, and enthusiasm are valued. It enhances both emotional health and mental health.
Recognizing Individual Needs
Recognizing individual needs in children is a crucial aspect of effective parenting. By observing children's behavior, asking them directly about their preferences, and considering their learning styles, you can identify the unique needs of each child.
Communication and Flexibility
Provide a non-judgmental space for your child and encourage them to share their thoughts, feelings, and challenges without fear. Effective communication forms the basis of healthy relationships in children, and it increases their flexibility in how to communicate their concerns and resolve them.
Both communication and flexibility equip children to deal with new difficulties and unexpected circumstances.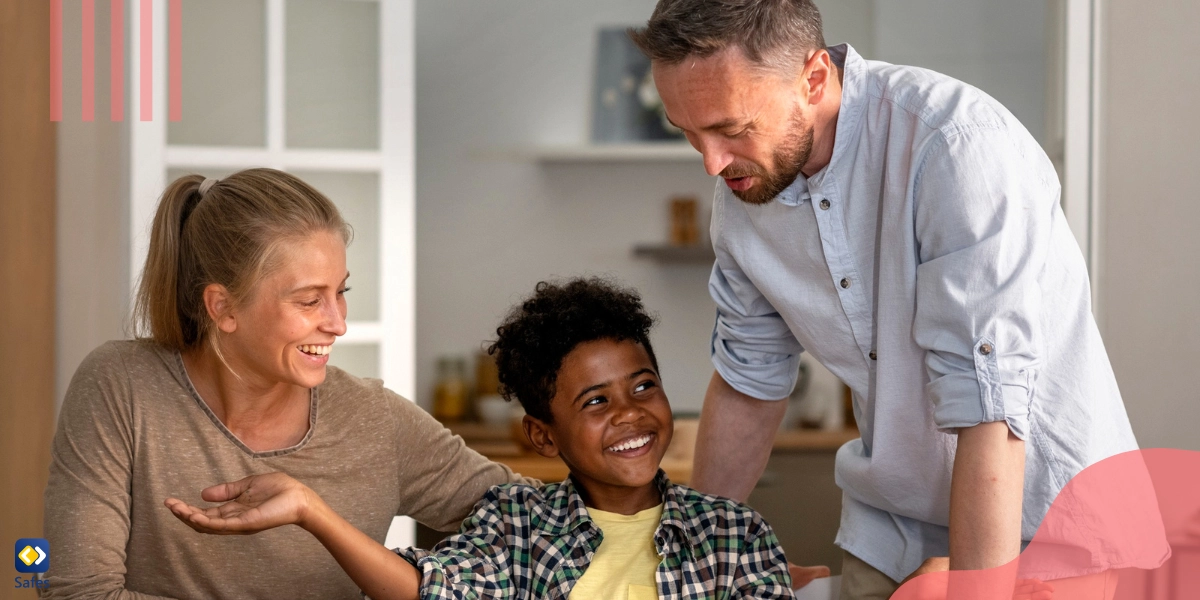 Avoiding Extreme Tiger Parenting
Stay away from extreme tiger parenting if you want to raise a motivated and successful child. Instead of being a tiger mom or dad, strike the right balance between setting high expectations and prioritizing your child's well-being.
Parental Control Apps: Tools for Balancing Expectations 
When children are raised by tiger parents, they may encounter several mental health problems. One of the most common ones is the lack of affection from their parents. To compensate for it they may have to use ways that are not safe for them.
Nowadays, due to the advancements in technology and the Internet, most people, even children, are familiar with the Internet. Sometimes overusing online platforms and applications can threaten your children's online safety.
If you want to protect your children from these dangers, we recommend you use the default parental controls on children's devices. Here are our resource pages that you can check to get more information:
Furthermore, parents can use a third-party parental control app like Safes to monitor their children's online activities, manage screen time, and block all apps instantly. It is available to download for free on iOS and Android.
Conclusion
Overall, while tiger parenting can produce excellent results by placing a strong emphasis on discipline and rules, it also carries the potential to lead to increased anxiety and alienation in children. We mentioned some methods such as creating a positive atmosphere, providing a space for communication, and promoting independence in children to strike the right balance between tiger parenting and positive parenting.