Learning to code was once viewed as a complex and difficult task, meant to be tackled only by adults. But today, there are a lot of apps trying to teach children how to code. It's a neat thing to learn at a young age and has many benefits as we'll see.  But you might be wondering what the best kids' coding app is. We're going to review a few of the best kids' coding apps for each age range Hopefully, this will help you make an informed decision about what app your child be using to learn how to code. 
Why Should Your Child Learn How to Code
According to Stack Overflow, many children start learning how to code before they turn ten years old. There is a multitude of reasons why it's beneficial for your child to learn how to code as well. 
1- Coding Teaches Your Child How to Solve Problems
A large part of coding isn't learning the language, but using it to solve a problem. Coding, even at beginner levels, requires children to think outside the box. Luckily, problem-solving is a skill that can be developed from childhood, and coding is one of the best ways to do it. 
Coding requires your child to break big problems into smaller ones, something that computers do all the time. This type of thinking is called "computational thinking." Coding enables your child to think like a computer would, effectively letting them solve problems in their real life easier than others. 
2- Coding Teaches Your Child to be Determined
We've all heard that failure is part of the road to success. But failing repeatedly and still remaining determined is easier said than done. Coding is a profession where failure is not only inevitable, it is necessary.  
Coding a program means solving problems, and the only way for your child to have a successful program on their hands is to encounter every problem they may face. To create a successful program, no matter how simple it is, your child will have to learn how to fail gracefully. Coding is one of those rare professions that teaches such a valuable skill; to fail and try again, and again, and again. 
3- Coding Guarantees a Career
The ability to code has become an invaluable skill for many employed adults. If your child learns how to code, they've effectively secured a few dozen jobs for their future. This doesn't mean they have to code for the rest of their lives, but it does mean that they have an option their peers don't.  
When your coder child graduates from high school alongside their peers, they'll have options that their peers lack. For example, colleges and universities are more likely to accept resumes from students that have useful skills, even if they're not entirely related. Also, being able to code automatically opens up a space for your child in the job market. 
4- Coding Improves Your Child's Teamwork
Contrary to popular belief, those who code don't work in their basements, alone, staring at a screen for a prolonged amount of time. In fact, most of the time, coding needs a team effort because most projects need a group of people to be completed in time. Yes, there are exceptions of one-person teams developing entire software and games but that's not the mainstream way of doing things. 
Coding as part of a team means solving problems alongside others. Teamwork is what your child learns when they code. When your child encounters a problem, the first thing they have to do is explain that problem to somebody else in a simple manner. Secondly, they'll have to work with one or more people to fix that problem. This process will happen again and again, and the best thing about it is that your child learns how to play as part of a team.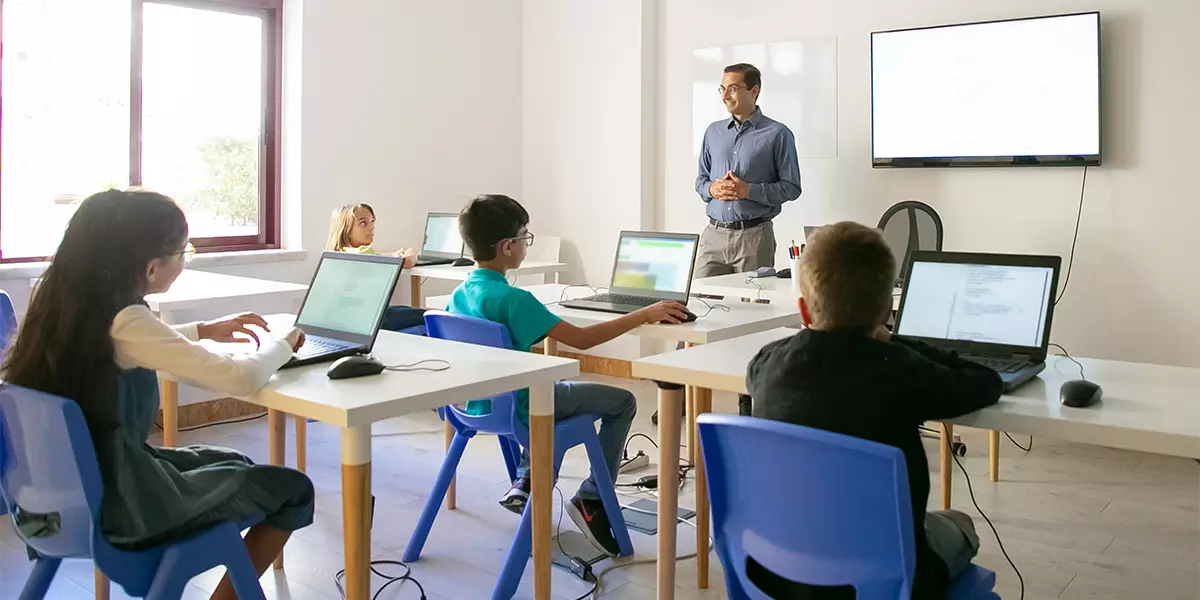 What Is the Best Way for My Child to Learn Coding?
Many developers have thought of developing apps for the younger generation to get introduced to coding. These apps have been designed in different styles, each using a creative idea to make coding's learning process as intuitive as possible for children. But there's still an important difference between a 9-year-old child and a 15-year-old teenager; they need separate coding apps. So here are a few of the best coding apps for each age range you can find on the market. 
A theme you'll probably notice as we move forward is that the younger the target audience of an app, the more game-like it is. As we move forward toward apps made for older audiences, the "gamey" part will slowly fade and your child will be faced with learning real coding languages like JavaScript. It should also be noted that the age range considered for every app isn't as exact. For example, an app made for an age range of 9–13 can be enjoyed by a 15-year-old as well. But 9 to 13 is the age range we think benefits the most from the app. 
Code Karts: Best Coding App for Pre-Readers
Code Karts targets a very young audience, namely children from 3 to 5 years old. The app is practically a game that lets your child race cars. The catch here is that your child has to drag-and-drop code to actually make the cars move. The great part about this app is that it's specifically tailored for pre-readers so there's no reading involved. The first ten levels of the app are free, but after you pay for the full experience, your child will get to experience all 60 levels the game has to offer. 
Features 
Colorful UI is exciting for young children

 

Doesn't require any reading

 

Gamifies the learning experience

 

One-time purchase for full access to all levels

 
ScratchJr
: Best Free Coding App for Kids
ScratchJr is the only app on this list that is completely free and doesn't have a paid version or any sort of subscription plan. Scratch is the name of a popular programming language and this app is based on that. Using its drag-and-drop features, children can make short clips, games, and even add their own voices to make a unique story. The app is best suited for children aged 5-7 years old. 
Features 
Allows your child freedom to do what they want

 

Enables drag-and-drop coding

 

Completely free

 

Character and animations are colorful and kid-friendly

 

Available for iOS, Android, and Chromebook

 
Tynker
: Best Educational Coding Game
Tynker separates itself from the rest of the apps on this list because of its determination to let your child make an actual game for themselves.  From the start, your child will be given the tools to design their own games and mods. They can even make their own mod for Minecraft, a popular game for young children. The app has block-building programming integrated with voice instruction for younger ages and even has courses teaching real programming languages like JavaScript and Python. 
Features 
The app makes sense for all ages, though its best suited for 5 to 10-year-olds

 

Available on iOS and Android

 

Includes both a free version and subscription plans for access to more levels and stories

 

Has community-coded challenges and features to keep things fresh

 
Nancy Drew Codes and Clues: Best Story-Based Coding App for Kids 
Imagine a story that requires your child to put together evidence as a female cop with a robot puppy. Now imagine that your child learns the ropes of coding while they experience the story. This app, which is best suited for those who are 6-10 years old, is especially impressive on this list because of its focus on the story. The downside to this story-focused app is that it limits its scope on coding. 
Features  
Attracts children who care less about games and more about stories

 
The first chapter is free and the rest is hidden behind a one-time purchase

 

Focuses on dialogue and being entertaining

 

Teaches skills such as problem-solving and algorithmic thinking

 

Available on Android and iOS

 
Kodable
: Best Premium Kid Coding App
Kodable might be the most recognizable household name in this list. It starts with a simple story for the sake of setting up what's to come next. Your child tries to help aliens who have crashed on a mysterious planet. Kodable is notable for teaching your child actual programming languages like Python. It includes many courses specialized for learning at home or in school. It's even been optimized to be used in a K-5 curriculum. The most suitable age range for this app are children aged 5-10. 
Features  
Has a 7-day trial

 

Available only on iPad

 

Includes tools for parents and educators

 
Sphero Edu
: Best Kid Coding App for a Robot
Sphero Edu is an app made to teach kids aged 5-13 how to code. What makes this app unique in this list is that kids will see the result of their coding work in real-life. Though the app is free, the various Sphero robots and kits you can buy cost more than all the above apps combined. On the other hand, compared to other app-controlled robots Sphero is the cheapest on the market. Overall, this is one of the best coding apps for middle school. 
Features 
Sphero robots have different versions such as Star Wars droids

 

Sphero robots are incredibly durable, even waterproof

 

The app is available both on iOS and Android

 

Your child is motivated to learn coding to play with the robot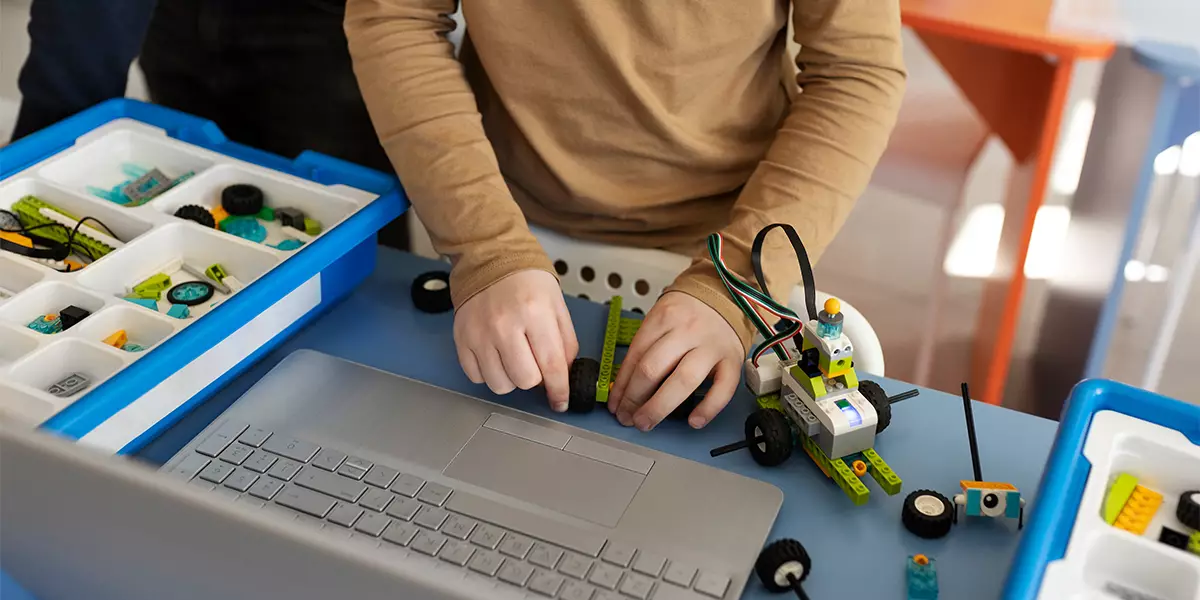 Hopscotch
: Best Kid Coding App for Making a Game
What motivates children more than an app that lets them play a game while learning? An app that lets them make their own games. The first thing that catches your eye when you see Hopscotch are the ridiculous and creative characters and illustrations it features. The app is a feast for the eyes, which makes it incredibly popular with children. There aren't a lot of challenges in this app, rather the app makes anything seem possible. Your child will even be able to make games like PokemonGO. The app is designed for children aged 10-16. 
Features  
Encourages your child by letting them make their own games

 

Gives your child a playground for their imagination to run free

 

Has a free version and a subscription plan for extra features

 

Has student accounts and lesson plans for educators

 

Available only on iOS

 
Programming Hub
: Best Kid Coding App for Learning Actual Programming
This app is made for children aged 13 and beyond. The app sticks to the actual programming languages. Your child has access to learning over 20 different programming languages using Programming Hub. The app is best suited for when your child can focus on learning actual programming in a fun and intuitive way without too many distractions. 
Features  
Teaches actual programming languages in a fun way

 

Includes challenges to keep your child engaged

 

Available both on iOS and Android

 

Has a free version, while also including in-app purchases

 
Mimo
: Best Kid Coding App to Make Coding a Habit
This app can technically work for anybody over the age of 4 but is best suited for high schoolers. Mimo's specific quirk is the challenges it offers every day. In fact, Mimo is best for when you want to make sure your child works on their coding skills every day without becoming overwhelmed. 
Features 
Gives your child real-time feedback

 

Makes coding a habit for your child

 

Available on Android and iOS

 
Khan Academy
: Best Kid Coding App for Feedback
Donations fuel Khan Academy and that's why all its courses are free. Its courses range from mathematics to history. Within these courses, your teenage child can find coding courses as well. These coding courses include videos, articles, and real-time feedback. And if your child has any questions, they can check out what others have asked before them. The best part about Khan Academy is its community of users and its real-time feedback. Overall, Khan Academy is a great coding app for teens. 
Features  
Completely free and available on iOS, Android, and web browsers

 

Includes other courses which your child might take a look at

 

Has a great community of users

 

Your child's questions won't be left unanswered on Khan Academy

 

Its courses can be downloaded to be viewed offline

 

Your child can take the course along with their school or take them at their own pace

 
Which Coding Program is Best for Kids?
Though some coding apps are better than others, choosing the best coding software for kids isn't as simple as it seems. You need to take things like your child's age, previous experience with coding, school programs, interests, and your own budget into account. The list presented here is a great reference for you to come back to anytime you want to choose a different coding app. 
Most coding apps, even the really good ones, need time to engage your child's curiosity. Sometimes this means that other distractions have to be kept to a minimum. If you want to make sure your child focuses and engages with the app, you might want to try Safes. Safes is a parental control app that includes features such as limiting screen time and blocking apps on your child's phone. Using Safes, you can make sure your child doesn't lose focus while they're dealing with an app's learning curve at the beginning.