In the horror genre, there are different types of subgenres such as supernatural, home invasion, apocalyptic, etc. It's not easy to choose 10 horror movies for 10-year-olds since children can get scared easily compared to adults. Generally, the best horror movies for this age range are also spooky, creating a certain tension that can entertain a child for hours. The best movies are timeless and stay spooky for years after they've been released. That's why a large part of the list you're about to see is comprised of movies released many years ago. 
What Is a Scary Kid-Friendly Movie?
Making a list of horror movies for 10-year-olds certainly comes with problems. First of all, most of the horror genre is made specifically with adults in mind. Many of the horror movies listed here are scary for kids but might not be for adults, some might even look like comedies. On the other hand, it's easy to go over the edge and end up with a list of violent movies. The psychological effects of violent movies are well-researched, but that doesn't mean filmmakers can't have fun with kids. Rather, it means that we as parents have to be careful when choosing what our child watches. 
To make sure that these films are appropriate for 10-year-olds we checked the age rating of every movie given to it by the Motion Picture Association (MPA). A study has shown that an overwhelming majority of parents use these ratings to decide what films to watch with their children. The five MPA age ratings are as follows: 
G/General Audiences /All Ages Admitted: Contains no content that would offend parents if children viewed it.

 

PG /Parental Guidance Suggested /Some Material May Not Be Suitable For Children: Contains content that some parents might find non-suitable for their child

 
PG-13/Parents Strongly Cautioned/Some Material May Be Inappropriate For Children Under 13: Contains content that parents should be cautious about and may be inappropriate for tweens.

 

R/Restricted/Under 17 Requires Accompanying Parent or Adult Guardian: Contains material suitable for adults only. Parents should learn or perhaps watch the film before viewing it with their children.

 

NC-17/No One 17 and Under Admitted: Only adults should watch. Is

not

appropriate for children under any circumstances.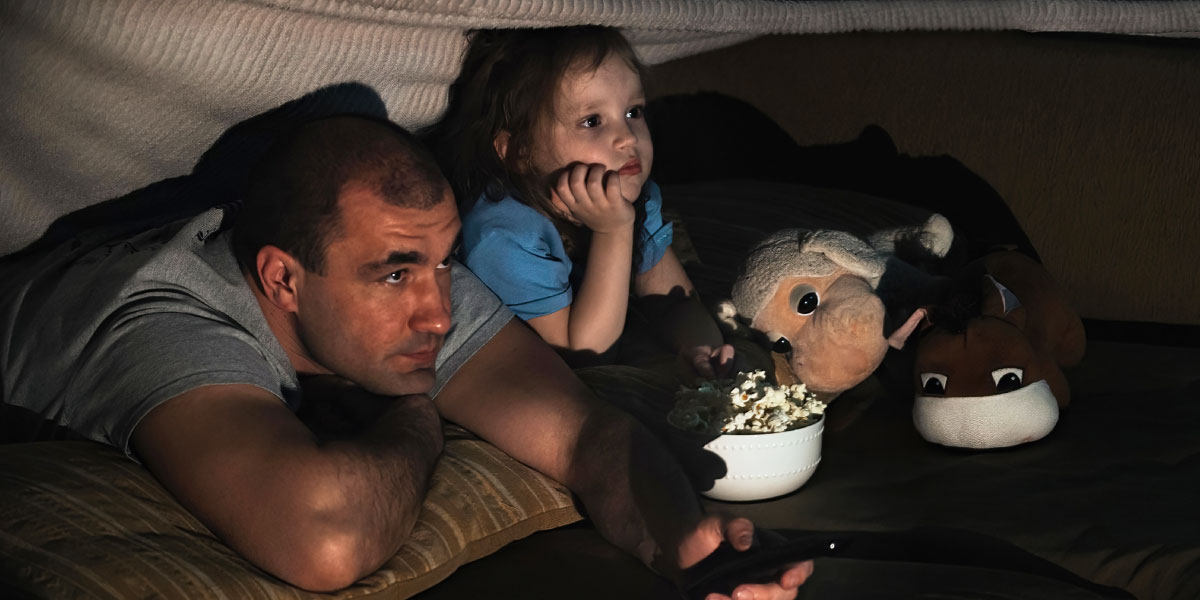 There has been some debate as to whether these age ratings are enough for parents. One study showed that age ratings work much better for screening sexual content than for violent content. A meta-analysis showed that most parents want to know the type of content that each movie contains instead of just having an age rating.  
Also, keep in mind that households differ in their values so different parents have different ideas about what their children are allowed to see. And children's sensitivity especially to horror movies is not the same, just as it isn't in adults. That's why to get a better understanding of the rating of each of these films, we've also incorporated CommonSenseMedia's ratings. Their ratings are age-specific. 
How to Block Inappropriate Movies
There will always be movies that your 10-year-old will want to see but are inappropriate. Using a parental control app like Safes can let you easily restrict watching age-inappropriate films on streaming services and other platforms. 
10 Spooky Horror Movies
10 films have been selected as the spookiest horror movies your 10-year-old can watch. In case you're looking for more, be sure to check out the honorable mentions section as well. The films presented are in no particular order. 
Frankenweenie (2012) – PG/+9
Frankenweenie, a stop-motion animation directed by Tim Burton, tells the story of a boy who tries to revive his recently deceased dog, but chaos ensues. Think of it as a cuter retelling of the Frankenstein story, which we all know and love. 
Spirited Away (2001) – PG/+9
Hayao Miyazaki is a Japanese animator known for his creative style of animation and storytelling. Spirited Away is probably the spookiest of his creations. The animation's plot involves a 10-year-old girl interacting with supernatural beings in a quest to turn her parents into humans after they've become pigs. 
Coraline (2009) – PG/+9
Based on the novel of Neil Gaiman, a famous children's author, a girl named Coraline steps into an idealized version of the world she already knows, but things are much more spookier and mysterious than they seem. 
The Spiderwick Chronicles (2008) – PG/+8
The Spiderwick Chronicles tells the story of a family who move into the Spiderwick Estate only to find a quite magical and spooky world that lives right in front of their very eyes. This movie is based on a book series of the same name. 
Goosebumps (2015) – PG/+9
The first live-action movie on the list, Goosebumps is based on a series of stories created by R.L. Stine. In fact, Jack Black plays Stine as the titular character who alongside his daughter try to save the world when the monsters from his works of fiction suddenly come to life.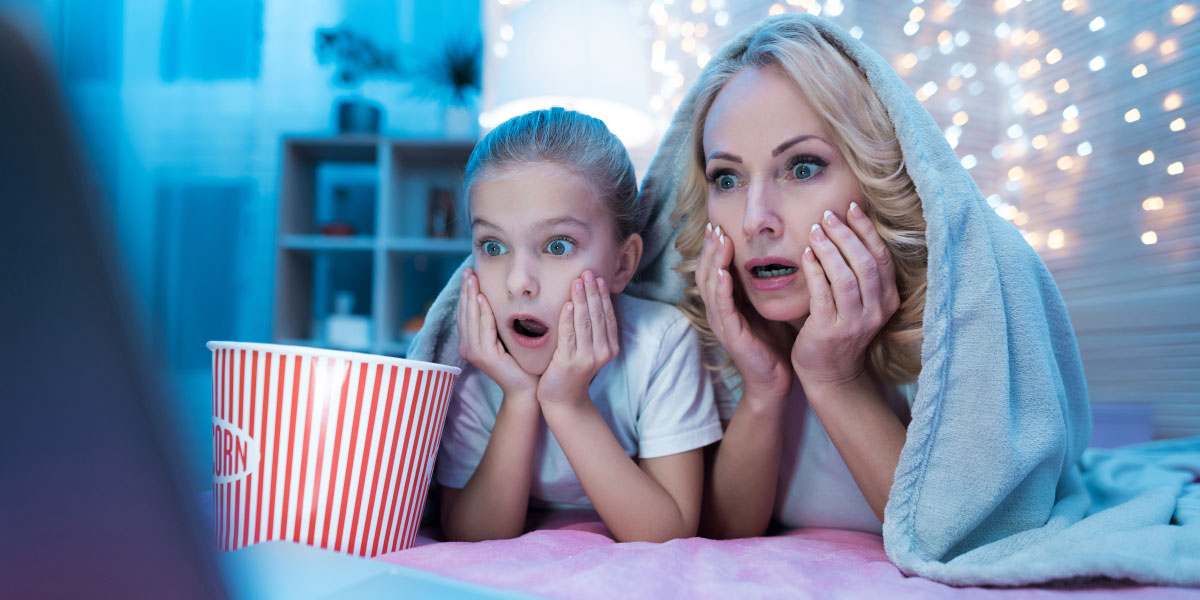 Corpse Bride (2005) – PG/+10
Another stop-motion animation by Tim Burton, but not the last, Corpse Bride refers to one of the characters in the movie, a dead bride who wants to fall in love. In fact, the plot starts with a hilarious scene in which Victor, voiced by Johnny Depp, while practicing his wedding vows, accidentally marries a skeleton. 
ParaNorman (2012) – PG/+10
Another stop-motion animation on the list, but this time not by Tim Burton. Norman, the protagonist, can talk to ghosts and everyone thinks he's crazy. But he soon discovers that his powers come in handy when the city is under attack because of a deadly curse. 
Return to Oz (2004) – PG/+10
The Wizard of Oz is a familiar fairytale for a lot of parents. It tells the story of Dorothy as she's transported to the Emerald City and goes on an adventure. The 1939 movie was a family-friendly installment. But a few decades later, Return to Oz, a much spookier and creepier installment was released as a sequel to the believed 1939 movie. 
The Addams Family (2019) – PG/+7
The Addams Family is based on a series of characters created by Charles Addams in the 20th century. There have been multiple movies, comic books, and television series based on these characters.  The 2019 animation tells the story of the Addams family moving to New Jersey and their daughter befriending the daughter of a reality show host. 
The Nightmare Before Christmas (1993) – PG/+7
The last entry is also the last stop-motion directed by Tim Burton on this list. Its story is simple; a being from Halloween Town goes to Christmas Town and becomes enchanted by the atmosphere. This leads to him abducting Santa Claus! As always, the animation includes Tim Burton's spooky signature style. 
Conclusion
These ten horror movies are some of the best spooky films you can watch with your ten-year-old child. If you want to know more about the details of each of these films, we recommend checking out their IMDB page. Understanding how age ratings work can also help with streaming services, a large number of which offer parental controls. For more information check out our blog posts on how to put parental controls on Disney Plus, NOW TV, and Netflix.