Nowadays, it's normal to find children spend a lot of time hunched over their smartphones, tablets, and computers. But this sitting and standing position as well as excessive screen time and a sedentary lifestyle can lead to poor posture and chronic pain. Contrary to what many people would think, good posture is not only essential for physical health, but it also has a significant effect on mental well-being. That's why in this blog post, we decided to talk about the importance of good posture in children, the negative effects of slouching, and effective parental techniques on how to stop slouching in kids.
Understanding the Causes of Slouching
As kids grow and develop, it's not uncommon for them to develop poor posture habits that can lead to slouching. While there are several potential causes of slouching in kids, some of the most common include:
Sedentary lifestyle and excessive screen time
Incorrect sitting and standing habits (such as slouching in a chair)
Heavy backpacks and improper carrying techniques
Recognizing the Signs of Slouching
Here are the signs your kid may be slouching:
Rounded shoulders and hunched back: They are the common signs of slouching. When someone slouches, their shoulders roll forward, and their upper back curves forward, leading to a hunched appearance.
Forward head posture: When slouching, the head tends to lean forward, and the chin juts out, causing strain on the neck and shoulders.
Discomfort and pain in the neck and back: Slouching can cause discomfort and pain in your neck, shoulders, and back. Over time, it can lead to chronic pain and even spinal problems.
So, pay attention to your child's posture throughout the day and ask them to see if they feel any pain in their neck, shoulders, and back.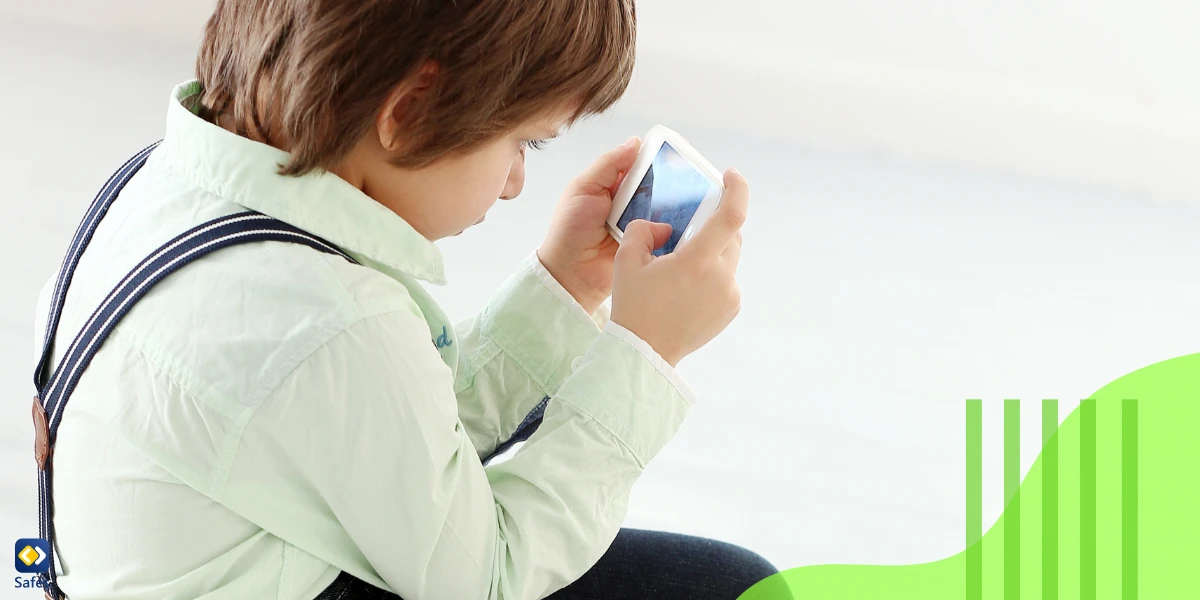 Tips to Help Children Maintain Good Posture
Changing a bad habit is always difficult, but don't lose hope. If your child slouches, read these tips and strategies that you can use to help them keep up a good posture:
Regular physical activity: Physical activity can make the muscles that support good posture strong. So, encourage your child to take part in physical activities they enjoy, such as sports and dance.
Proper sitting and standing: Teach your kid to avoid the slouching pose where the head and shoulders are rounded forward. Practice sitting up straight and standing tall with shoulders back and head up. It's hard at first, but if you have them practice every day, it will turn into a habit.
Ergonomic furniture and equipment: Make sure your child's desk and chair suit their age and size. They need to sit comfortably with their feet flat on the ground and their arms at a comfortable height.
Core muscles targeted exercises: Strong core muscles help support good posture. Help your child to do exercises that target the core muscles, such as planks or sit-ups.
Screen time limits and breaks for movement: Prolonged sitting and screen time can cause poor posture. Encourage your child to take breaks every 30 minutes to stand up, stretch, and move around. Set screen time limits and encourage other activities that promote movement such as playing outside or going for a walk.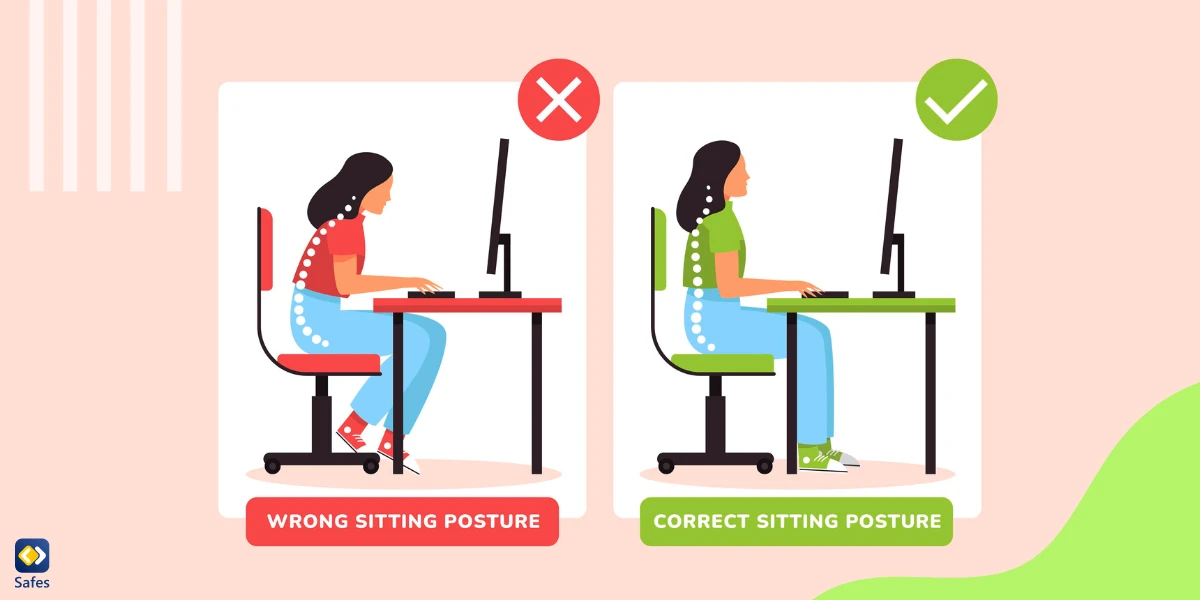 How Can Safes Help Stop Slouching in Kids? 
The Safes parental control app can be a tool to help their kid maintain good posture. With Safes, you can set screen time limits and schedule breaks for movement to encourage physical activity. By limiting screen time and forcing breaks, kids are less likely to sit for long periods, which can lead to slouching.

We know how difficult it is to keep an eye on children all the time monitoring and controlling their screen time. But with Safes, you can help your kid develop healthy habits automatically. The good news is that Safes works on all platforms, including Android, iOS, Windows, and Mac. Wish to learn more about Safes? Follow the links below:
Creating a Posture-Friendly Environment
Creating a posture-friendly environment is vital for supporting healthy growth and development in children. To help your kid prevent slouching and promote good posture, you can take these few simple steps:
First and foremost, ensure that your kid's study and play areas are ergonomically designed. The desk, chair, and computer should be positioned correctly, so your kid is not in a slouch position that could strain their back or neck. Choosing supportive furniture and accessories such as ergonomic chairs, footrests, and wrist supports also does a lot of good.
Promoting an active and engaging lifestyle is another excellent way to support good posture. Encourage your kid to participate in physical activities such as sports, dance, or yoga to build core muscles.
You can also set screen time limits and schedule breaks for movement using apps like Safes to help prevent slouching and promote healthy habits.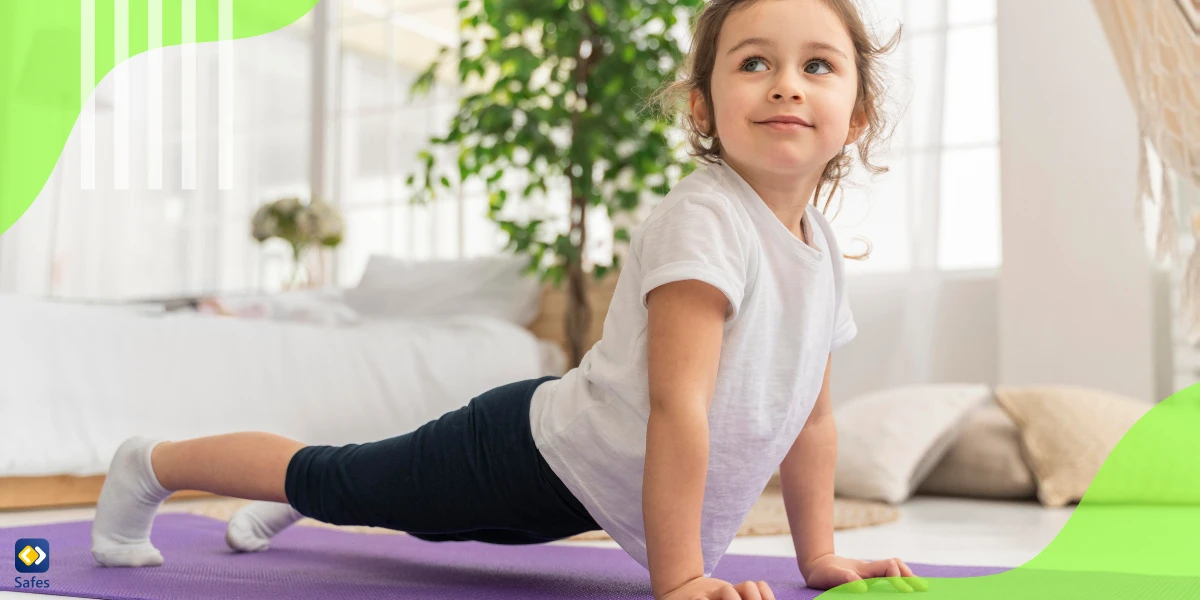 Encouraging Good Posture Habits
Encouraging good posture habits in your little one is crucial for their physical health and well-being. As a parent, you can take several steps to help your child develop proper posture habits. We'll explain some of the below:
Leading your kid by example is a great way to teach your child good posture. Children often mimic the behaviors of their parents, so if you maintain good posture, your kid is more likely to follow suit.
Secondly, gentle reminders and corrections can help your child become more aware of their posture. Remind your kid to sit up straight or correct their posture when you notice them slouching.
Last but not least, make posture exercises fun and engaging to encourage your child to develop healthy habits. You can incorporate games and activities that promote good posture, such as yoga or stretching exercises.
Seeking Professional Help
Sometimes, despite our best efforts, our kids may still develop posture issues or experience pain. In such cases, it's important to consult a healthcare professional or physical therapist.
You should consider seeking professional help if your child experiences persistent pain, has a noticeable curvature of the spine, walks with an uneven gait, or displays other symptoms that suggest a posture-related issue. A healthcare professional or physical therapist can help diagnose the problem and recommend appropriate interventions.
One of the benefits of seeking professional help is the opportunity for a postural assessment. They'd evaluate your child's posture and movement patterns to identify any imbalances or abnormalities. Based on the assessment, the healthcare professional or physical therapist can recommend specific exercises, stretches, and other interventions to improve your child's posture and alleviate any pain or discomfort.
How to Stop Slouching in Kids: Conclusion
As a quick reminder, good posture habits are crucial for children's physical health and well-being. You as a parent or caregiver can play a vital role in encouraging your child to develop good posture habits by leading by example, providing gentle reminders and corrections, and making posture exercises fun and engaging.
If a child experiences persistent pain or other symptoms, it may be necessary to consult a healthcare professional or physical therapist. A postural assessment can identify any imbalances or abnormalities and lead to specific interventions to improve posture and alleviate discomfort.
By addressing posture issues early, you can prevent more serious problems in the future. So, if you want to know how to stop slouching in your kid start with small steps and make it a fun and engaging activity for your little one.