In today's digital era, texting has shaped most of our communications and interactions. However, with the increasing use of devices such as mobile phones and tablets among children and teenagers, a new concern has emerged, texting and walking. There is an increasing trend of texting and walking in children which is dangerous.
There are several risks associated with texting and walking in children.  It diverts their focus from their surroundings while they are texting. Some of the key risks include having a car crash, reducing awareness, and falling down.
In this blog, we are going to elaborate on texting and walking injuries and introduce a couple of solutions for parents to protect their children from potential risks.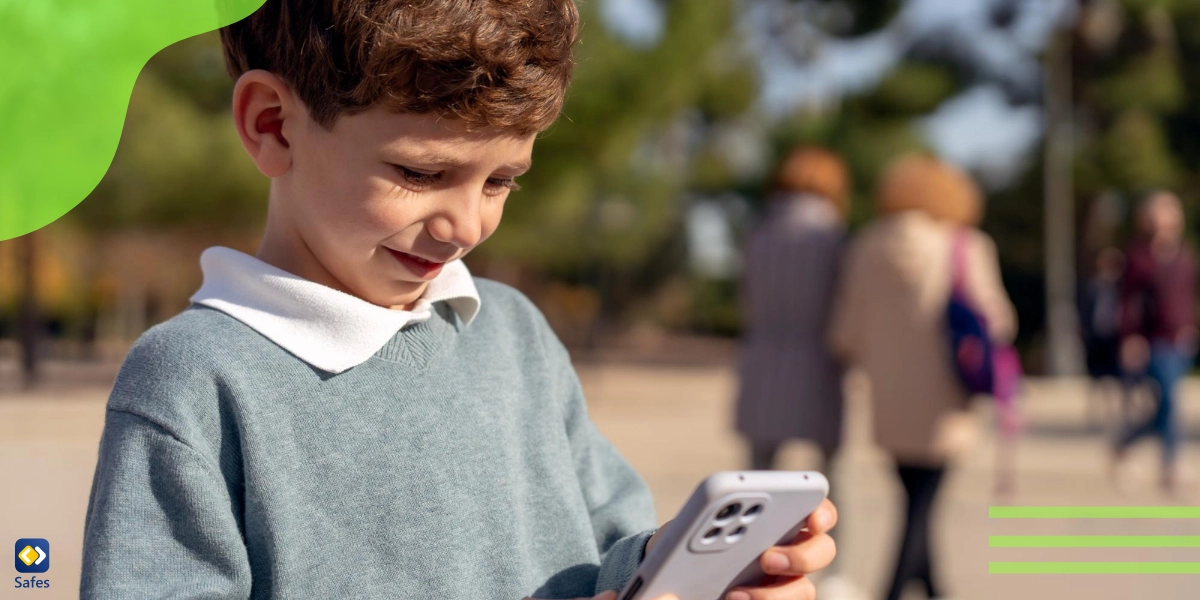 The Dangers of Texting and Walking
As we mentioned above, texting and walking can be a dangerous combination. Here we want to delve deeper into the risks associated with this issue:
Pedestrian Accidents
This is the most common danger related to texting and walking which refers to collisions involving pedestrians and objects or vehicles. It results in injury and harm. Children are more vulnerable to serious injuries in pedestrian accidents.
Trips and Falls
Children do not pay attention to their surroundings when they are texting on their mobile phones. Therefore, the possibility of tripping over objects or uneven surfaces in the street is high.
Reduced Situational Awareness
Texting and walking decrease children's ability to perceive and understand the environment around them. While walking, they are unable to hear approaching hazards such as car horns or noises that indicate potential dangers.
Statistics on Texting and Walking Accidents
Texting and walking accident statistics are rising. Here are some general statistics on how many people die from texting and walking.
Safe Kids Worldwide Study
According to Safe Kids Worldwide Organization, every year 39% of teenagers die because of texting while walking. Girls are more likely to become distracted while using cell phones and walking at the same time. However, the rate of death because of texting and walking is higher in boys.
National Safety Council Data
As previously mentioned, there is a year-on-year increase in texting and walking accidents among children and teenagers. Based on National Safety Council Data, teens are much more likely to be hit by cars than other age groups. This is because of their addiction to cell phones while walking.
Tips on How to Keep Children Safe on the Road
Utilizing parental tips to address texting and walking in children is crucial to promoting safe behaviors in children and reducing the associated risks. Here are a couple of methods for parents to consider.
Setting a Good Example
Setting a positive example for children regarding this issue can have a big impact on their behavior and encourage their safe habits. Parents can demonstrate responsible mobile phone use while walking by:
Crossing roads carefully: When crossing roads with your children, put your cell phone away and pay attention to your surroundings.
Be a good role model: While walking with your children in the street, be attentive to show them you are fully present.
Avoid multitasking: Stop doing several tasks while walking to set an example of continuous attention to just one task while walking.
Educating about the Risks
It's essential to educate children about the potential risks. It promotes their safety and their well-being as well. Here are some efficient methods to convey the message effectively:
Use age-appropriate language: Use simple and child-friendly language to explain the risks without causing fear.
Share stories: Share age-appropriate stories or news articles to make them aware of texting and walking deaths.
Show them visual videos: Use animations that demonstrate the dangers of texting and walking clearly.
Implementing Digital Rules
By setting digital boundaries for children, you can restrict their mobile phone usage while walking. There are some guidelines for parents to consider how to set up digital limitations:
Create a "Stop and Text" rule: Encourage them to find a safe spot for texting and using cellphones in the street.
Set "No Phone" zones: Show them specific areas such as streets and avenues where cell phones are not allowed.
Set a specific time for using a cell phone: Allocate just a limited time for using a mobile phone during the day.
Apps for Tracking Location and Enhancing Safety
You can use some apps designed for tracking your children's locations. If you want to know about tracking location apps, we recommend you read the blog "The Top Family Tracking Apps Every Parent Needs to Know About".
Parental Control Apps
As all the mentioned methods cannot protect your children completely, we recommend you use a parental control app. It is the best solution to navigate the risks of texting and walking with your children. You can use the default parental controls on your child's device such as Android parental controls or iPhone parental controls.
Setting some boundaries and limitations on the usage of devices and social media applications can be done by using Safes. Safes is a parental control app available on iOS and Android, that allows you to:
Limit screen time
Instantly block all apps when crossing the road
Set schedules for individual apps
Conclusion
Overall, texting while walking is a common behavior in children and teenagers that might result in serious dangers. To navigate the potential risks parents can use parental tips such as setting good examples for them, educating them about the risks, implementing digital rules, and installing parental control apps.