Voice recognition apps have become increasingly popular among children. While some parents might associate using voice-recognition apps with laziness, the reality is that these apps offer a fun and interactive way for kids to use their devices while also providing some educational benefits. Being educational—does it come as a surprise to you? If so, that means you should read this article. We'll explore the world of voice recognition apps for kids, discussing the top picks for kids and students and highlighting the importance of parental controls to ensure a safe and secure online experience.
What Are Voice Recognition Apps?
Speech recognition apps, or text-to-speech apps as some call them, are handy helpers on your phone or computer. They take spoken words and turn them into written text. So, instead of typing out a long email or text, you just talk, and your device writes it all down for you. It's like having a personal secretary right in your pocket.
How Does Speech to Text Software Help Students?
As we said, voice recognition apps are especially useful for students in an educational setting. What is the benefit of speech to text software for students? Firstly, speech to text software is super handy for students who may struggle with typing or have physical disabilities. It allows them to simply speak out their thoughts and ideas, which then get converted into written text. This not only saves time but also helps in improving their productivity. Speech recognition tools are a game-changer for students with mobility impairments or conditions like carpal tunnel syndrome.
Speech-to-text software is like a life hack for students who struggle with learning differences or have difficulty sticking with something for long. They can easily blurt out their notes or essays, and it's all written down! It's not just about making their writing sharper and more on point, but it also lets them zero in on what they're saying instead of sweating over scribbles or spelling.
What Are the Best Speech to Text Programs for Kids?
There is a long list of voice recognition apps on the market, some paid, some free of charge. Here we've selected 4 which are very popular while having a friendly and safe interface for children: Dragon Dictation, Google Assistant, Siri, and Amazon Alexa.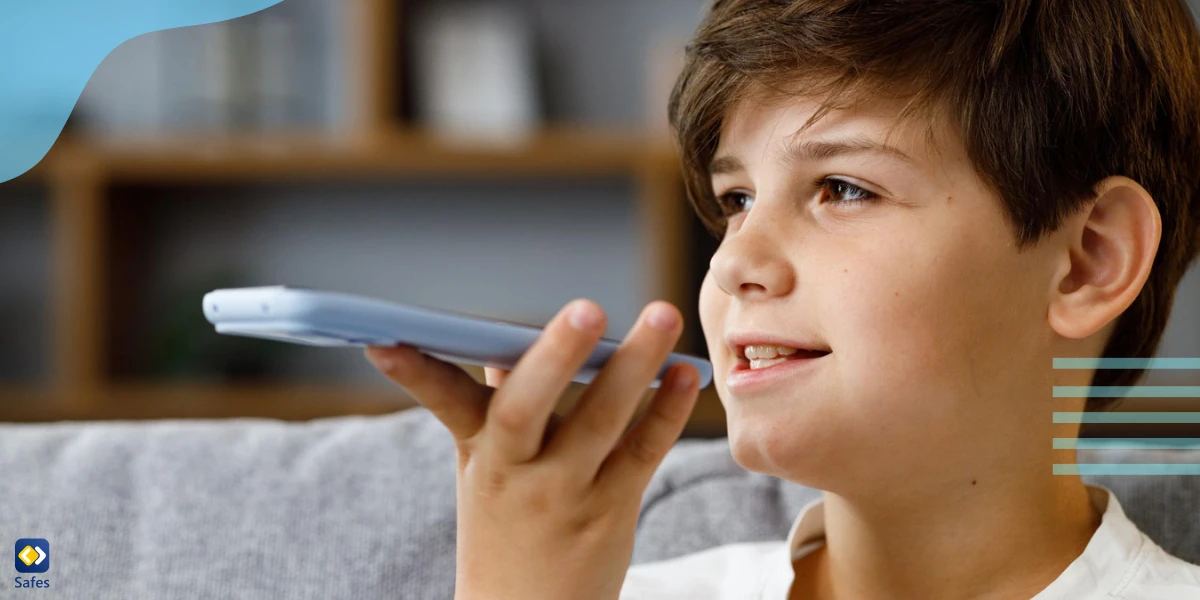 Dragon Dictation
Dragon Dictation app offers a user-friendly interface and allows children to dictate their thoughts and ideas, which are then converted into text. It's particularly beneficial for young learners who may struggle with traditional typing methods. Dragon Dictation also has features like voice editing and formatting options.
Dragon is also a good dictation app for students. They can use it to learn how words are spelled. It's available on both computers and phones. Here you can download the Dragon Dictation app for PC: Dragon Professional Anywhere Speech Recognition Solution
Google Assistant
Google Assistant is another top pick. It allows kids to ask questions, play games, and complete various tasks using voice commands. With its vast knowledge base and natural language processing capabilities, Google Assistant provides young users an immersive and educational experience. You can also set up parental controls on this app to ensure age-appropriate content and limit screen time.
Siri
Siri, Apple's voice recognition assistant, is a familiar name for many kids. Siri can perform various tasks, from setting reminders and sending messages to providing information and playing music. It is not only a useful tool for everyday tasks but also a great educational resource. Siri can help children with spelling, vocabulary, and general knowledge questions, making learning fun and interactive.
Amazon Alexa
Amazon Alexa is another popular voice recognition app with many features tailored for children. With Alexa, kids can listen to stories, play educational games, and even ask homework-related questions. This app encourages creativity and engagement, providing an interactive learning experience for children of all ages. You can also set up parental controls to monitor and restrict access to certain features or content.
Voice Recognition Apps for Students with Disabilities
Voice recognition apps have proven to be a valuable tool for students with disabilities. These apps can assist individuals with physical disabilities, learning disabilities, or language barriers by providing an alternative method of communication and learning. The speech-to-text functionality allows students to dictate their thoughts and ideas, helping them overcome challenges and participate more actively in the classroom.
Here are a few examples of speech to text software for students with disabilities:
VoiceNote II: VoiceNote is specifically designed for Chromebooks. What makes it stand out is that it works offline. So, a spotty internet connection won't be a problem anymore.
Read&Write: While not solely a voice recognition app, Read&Write offers several features, including speech-to-text capabilities. It supports multiple platforms and provides a user-friendly interface for students with disabilities.
Speechnotes: This app focuses on simplicity and ease of use. It provides a clean space for students to speak and have their words transcribed into text. It also offers punctuation commands and the ability to export or share the transcribed text.
Google Docs Voice Typing: Within Google Docs, students can use the built-in voice typing feature. By selecting the option from the "Tools" menu, they can dictate their thoughts or assignments directly into a Google document.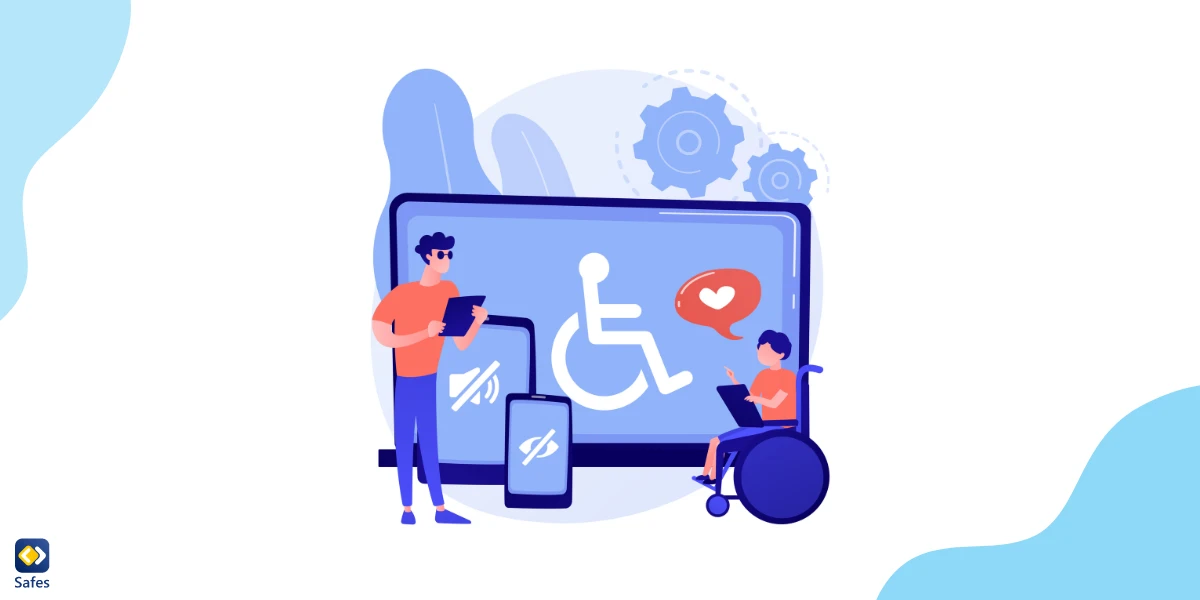 Potential Threats and Safety Considerations
While voice recognition apps offer numerous benefits, awareness of potential threats and safety considerations is essential. Here are some key factors to consider:
Data Collection: Voice recognition apps collect and process personal data, including voice recordings and transcripts. Choosing apps that prioritize data security and have robust privacy measures in place is crucial.
Online Safety: Voice recognition apps often require an internet connection to function correctly. Educating children about online safety is essential, including the risks of sharing personal information and interacting with strangers online.
Inappropriate Content: Although content filtering options are available, it is still possible for children to come across inappropriate content. Regularly monitoring your child's activities and discussing potential risks can help mitigate these concerns.
Screen Time: As you can see, voice recognition apps are incredibly amusing tools. So, it's only natural for children to want to spend hours meddling with them. But too much screen time is always a bad thing. If you don't know the harms of excessive screen time, we suggest reading this research: Clinical and psychological effects of excessive screen time on children
Parental Control Options for Voice Recognition Apps
Knowing the risks that the online world can pose to children, you must implement appropriate parental controls to ensure your child's safety and well-being. Here are some critical parental control options to consider:
Content Filtering: Most voice recognition apps provide content filtering options that let you restrict access to age-inappropriate content. This feature is particularly important to ensure that children are not exposed to harmful or inappropriate material.
Time Limits: Setting time limits is essential to prevent excessive screen time and encourage a healthy balance between online and offline activities. Many voice recognition apps offer built-in timers or parental control settings that allow parents to set daily usage limits.
Monitoring Features: Some voice recognition apps provide monitoring features that allow you to track your child's activities, including the messages they dictate and the websites they visit.
Privacy Settings: It's crucial to review and adjust privacy settings to protect your child's personal information. Make sure that only necessary data is being collected and that it is stored securely.
How Can Safes Protect Your Child While Using Online Tools? 
The Safes parental control app is a powerful tool that can help you ensure your child has a safe online experience while using online apps, including voice recognition apps. With Safes, you can set up controls and filters to block inappropriate content and limit access to certain apps or websites. The app allows you to monitor your child's online activities, including voice interactions, and receive alerts if any suspicious or unsafe behavior is detected.

Using Safes, you can have peace of mind knowing that your child is protected while using voice recognition apps and other online platforms. Safes is available on all Android, iOS, Windows, and Mac devices. To learn how to put parental controls on these platforms using Safes, follow the links down below:
Final Words on Voice Recognition Apps for Kids
Voice recognition apps have revolutionized the way children interact with their devices, offering a fun and educational experience. Dragon Dictation, Google Assistant, Siri, and Amazon Alexa are among the top voice recognition apps for kids, providing many features and benefits. However, you must implement parental controls to ensure your child's safety and protect their well-being. The Safes parental control app can help you monitor your child's device use and screen time, as well as set healthy limits, ensuring a safe and secure online experience for your child.