Cyberbullying is virtual attacks using the internet and smart devices such as phones and computers to hurt someone psychologically. While most people are familiar with the signs and effects of bullying and how to help the victims, cyberbullying is a relatively new and, therefore, less known phenomenon. Children are cyberbullied more often than adults, but unlike adults, most children don't know how to deal with it. Therefore, as a parent, you need to know what to do when your child is cyberbullied to help them recover from the devastating effects of cyberbullying. Read "What Are the Effects of Cyberbullying on Children?" to learn about the impacts. 
This article will describe the signs a child is being cyberbullied, what parents should do about cyberbullying, and how to stop it from happening again. 
How to Tell if Your Child Is Being Cyberbullied
"How do you know if your child is being cyberbullied?" We're often asked this question because it is sometimes challenging to tell if a child is cyberbullied. Most children, especially teenagers, tend to withdraw from opening up to their parents due to the embarrassment, fear, and stress they undergo. Therefore, you need to look for some of these signs in your child: 
Stopping Using Computers & Phones

 

Nervous When Receiving a Message

 

Negative Reaction after Using Computers or Phones

 

Secretive when Using Computers & Phones

 

Change of Mood

 

Reluctant to Open up

 

Uneasy Going to School

 

Withdrawn from Social Activities

 

Eating Disorder

 

Sleeping Disorder

 
What to Do If Your Child Is a Victim of Cyberbullying
After suspecting your child is being cyberbullied, you need to take a series of actions to help your child. For different reasons, you may not want to take some of the steps listed below; nevertheless, you should always express your support and compassion for your child. 
Talk to Your Child

 

Don't Criticise Your Child

 

Don't Ban Your Child from Using the Internet

 

Seek Professional Help

 

Sign up for Support Groups

 

Gather Evidence of Cyberbullying

 

Block & Report the Cyberbullies

 

Talk to School Officials & Parents

 

Go to the Police

 
The first thing you should do to help your child is to have an open conversation with them. If you discover they're being cyberbullied, you should not criticise them. Most often, children have done nothing to deserve to be bullied. Even if you believe they're partly responsible for what's happening to them, save scolding for another time. Right now, your child needs your emotional and practical support. 
Don't prohibit your child from using the internet, phones, or computers, as these may be the only ways your child communicates with others. 
Seek professional assistance to safeguard your child. Psychotherapy and support groups can assist your child come back to a normal life. 
While some parents prefer to collect evidence of cyberbullying to show to school officials, parents, or the police, others prefer to settle down and help their children recover from the trauma. In that case, you may block the abusive users to prevent them from doing more harm. You can also request that the bullies' accounts be removed from the platforms your child uses. However, if the damage done is extensive, we suggest gathering evidence to show to the legal bodies before blocking the cyberbullies.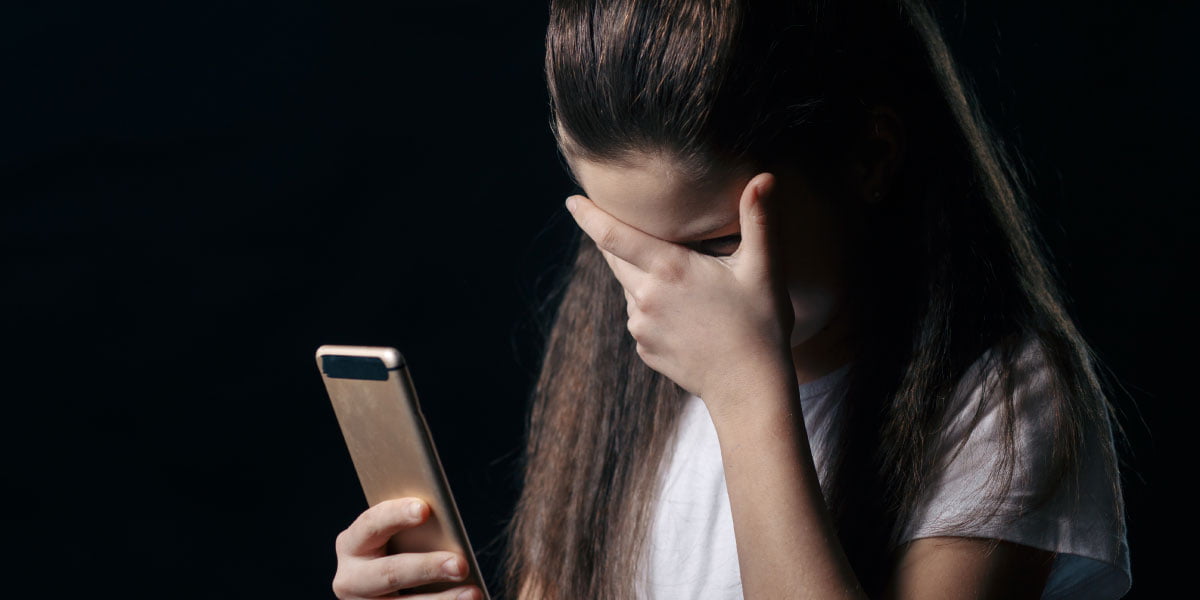 How to Stop Cyberbullying from Happening Again
After your child recovers from cyberbullying, to stop cyberbullying from happening again _or prevent your child from ever being cyberbullied_ you can use the tips below: 
Ban Age-Inappropriate Apps

 

Modify Privacy Settings

 

Teach Your Child the Social Media Etiquette

 

Teach Your Child How to Protect Themselves Online

 

Optimise Your Child's Cyber Security

 
Ban Age-Inappropriate Apps
Any app on major app distribution platforms such as Google Play and App Store has an age rating. Most social media apps have an age rating of +13, meaning people below 13 years are not allowed and advised to use them. Some other apps have a higher age restriction. For example, Telegram, a popular messaging app, is restricted to people below 16. They receive these ratings based on the safety and health risks they can pose to users. 
Although both the app distribution platforms and the apps themselves restrict downloading and using apps for underage children, they don't have a reliable age verification procedure. That means kids can fake their ages to use apps that are inappropriate for their ages. 
Therefore, it is crucial to instruct your child not to use age-inappropriate apps and to monitor and control the apps they download. Safes parental control app is a tool that facilitates monitoring and controlling apps on your child's phone, tablet, and computer. 
How Does Safes Prevent Cyberbullying?
Using Safes parental control app, you can pair your child's devices, including phones, tablets, and computers, with your own devices. This way, you'd be able to receive reports about your child's activity on their devices. You'd be notified when they install a new app. Moreover, you'd be able to block apps that you find inappropriate. Some apps come with a web panel that your child can access without installing an app. In that case, you can block web panels' URLs (website addresses). You can make all these settings remotely, right from your phone or computer, without touching your child's devices. 
If you find Safes helpful and wish to try it, feel free to download it from our website and benefit from a 14-day free trial with premium features. 
Modify Privacy Settings
Most apps that your child uses have privacy settings. Using these settings, you could define what data your child shares with other users and who can contact your child. For example, on Facebook, you can make your account private, meaning only your contacts can see your posts, stories, and information. Besides, you can prevent strangers from looking up your account or sending you friend and chat requests. 
You can modify privacy settings anytime you want, meaning even if your child has already created an account on an app, you can still sit together to optimise the settings. Albeit, each app offers a different row of settings. In our blog's App Review and Social Media categories, we have covered how to optimise the privacy settings on several apps. 
Teach Your Child the Social Media Etiquette
Social media host the most cybercriminal attacks on children. Teaching your child how to behave on social media can decrease the chance they fall victim to cyberbullying. For example, you can teach them the following: 
Keep Your Accounts Private

 

Don't Accept Friend Requests from Strangers

 

Don't Share Private Data

 

Don't Reply to Scams or Click Scam Links

 

Don't Share Private Content with Strangers

 

Block & Report Intruders

 

Don't Hurt or Disrespect Others

 

Don't Post Things that Jeopardise Your Character

 

Report Suspicious Activities to Your Parents

 

Don't Hide Your Activities from Your Parents

 
Teach Your Child How to Protect Themselves Online
Cyberbullying threats can come from every platform where social interaction occurs, including online games, forums, chatrooms, emails, etc. Some rules from the social media etiquette for kids can apply to using any online platform or service. These rules are the same everywhere and can save your child from falling victim to cyberbullying: 
Never Divulge Your Account Credentials

 

Never Share Sensitive or Personal Information or Content with Strangers

 

Never Share Content or Information that Can Be Used Against You

 

Never Hide Your Activities from Your Parents

 

Always Be Careful about the Links You Receive

 

Always Block & Report Intruders Before They Get the Chance to Hurt You

 

Always Report Suspicious Activities to Your Parents

 
Optimise Your Child's Cyber Security
Sometimes children fall victim to cyberbullying or other cybercrimes because their parents fail to implement proper security measures on their phones, tablets, or computers. Hackers can gain access to their private information and use them for bullying. 
By choosing secure passwords for accounts and installing security apps such as antiviruses and firewalls, you can be reassured that your child's data is safe and sound.