Is your child reaching the age when they're almost ready for their first phone? Or are they getting a bit older, and you're thinking about getting them a more advanced one? Whichever it may be, the most vital thing is to make sure their phone is as safe as it can be. Acquiring safe phones for kids is a must.  
Buying a Phone for Your Child: Factors to Consider
Tweens and younger children require phones with extra parental controls (either preinstalled or set up) compared to teens, who need to have a little more freedom on their phones. Anyhow, when buying a phone for your child, there are certain things you need to consider.  
Below are some of the most important factors you need to take into account when deciding on a phone for your child.  
Your Child's Age
How old is your kid? Are they a teen, tween, or even younger? If you want to get your child a phone, you should make sure that the phone you choose is appropriate for their needs. If your child is fairly young, and you're only getting them a phone to keep in touch with them and know their whereabouts, you don't necessarily have to get them a smartphone.  
Child psychologists don't agree on a certain age for kids to receive their first phone, so as a concerned parent, you have to decide what age is appropriate for your child, based on your child's characteristics, interests, and level of responsibility.  
According to Common Sense Media, 53 percent of children have phones by the age of eleven. This percentage goes up to 69 by the time they are 12. At 14 years of age, 91 percent of children have phones. Your child might ask for a smartphone, merely because their friends and classmates have one, but that doesn't mean you have to get them one. You have to consider for what purpose you're getting a phone for your kid, and then, you can have a clearer view of what kind of phone to get them. This depends a lot on your parenting style, too. Whatever you do, just make sure your child's phone is safe and secure.   
Your Familiarity with the Model 
It's better to get your child a phone you already know how to work with. It could be a phone from the same brand that you yourself have, or even the same model. This way, if your child needs help working with it, you'll be able to instruct them. You also won't get confused while checking their phone, or installing parental control apps on it.   
Budget
It is wiser not to spend too much on kids' starter phones, because it's always a possibility that your child loses or accidentally breaks it; especially since young children can be careless with their stuff. So, you're probably better off not spending too much on phones when they're very young.   
Special Kids Phones
There are certain phones on the market designed specifically for kids. Kids phones usually have fewer features on them, and thus are often cheaper. These phones come with built-in parental controls. However, that doesn't necessarily make them any safer than other conventional mobile phones. Any phone can be safe as long as you follow a safety protocol.   
Kids phones usually have:  
Limited or no access to the internet 

 

Restrictions on certain applications 

 

A more straightforward user interface 

 
Although they can be useful as starter phones, you cannot expect your child to keep using them all through their teenage years. But if you're not sure your child is ready to take care of a real grown-up phone, it might be a better choice to have them try it out on a less expensive one.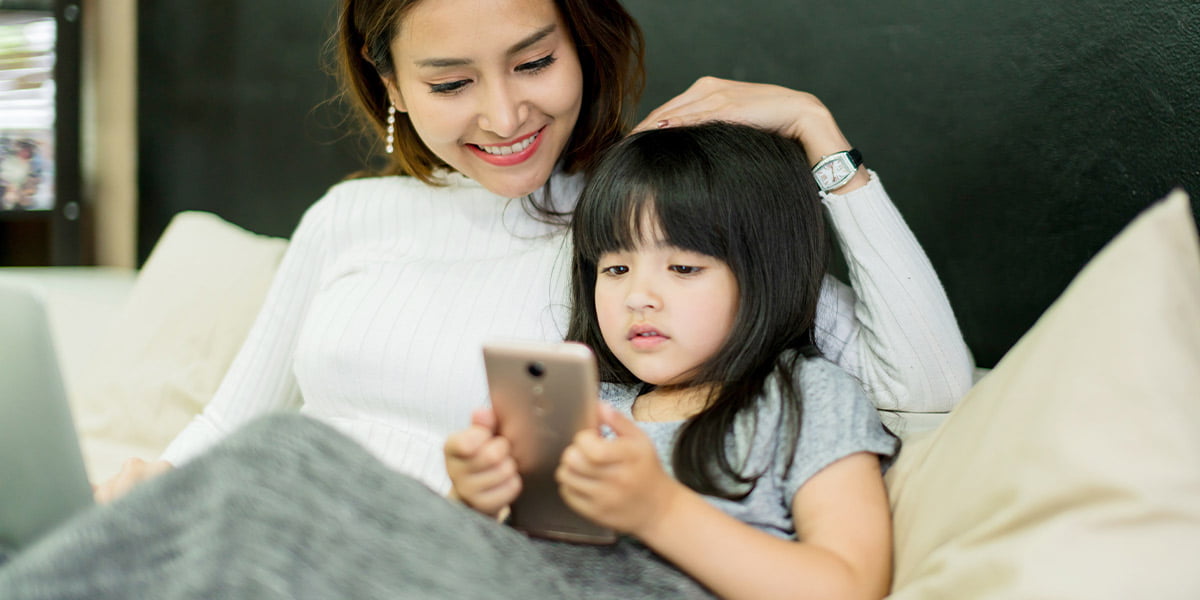 Here, we introduce some of these kids phones, their most important features, and what you should expect from them:  
No Internet Access 
If your child is too young, you might prefer to get them a phone without internet access. But you also have to take into account that you'll have to replace it with a phone that has internet access in a little while. If you have a tween at home, they are likely to ask for a phone on which they can have access to the internet.  
Preinstalled Parental Controls 
Kids phones usually come with built-in parental controls. The strictness of these parental controls can vary, based on the level of internet and cellular access available on each phone.  
GPS 
It is vital that the phone you choose for your child has GPS on it, so you can keep track of your child when you are not with them. If you're just starting to let them walk home from school or go places by themselves, they might get lost on the way home. This way, you can find them easily and make sure of their safety, until they are finally ready to be out and about without monitoring. Luckily, most phones have this feature, so you wouldn't have to worry as much about your child's whereabouts.  
Dust-water Resistance 
Young children can get overexcited during playtime, and if they have their phone on them, it is highly possible that it accidentally falls into mud or get splashed by water. Therefore, it is wiser to buy a phone for your child that is both dust and water-resistant. With an IP67 rating, Google Pixel 6A is a durable choice for more energetic children at the reasonable price of 499$ (compared to other dust-water resistant phones).  
Screen Size 
It is better to get a phone with a relatively smaller screen size for a young child. A smaller screen fits more comfortably in their hands. It's also less inviting for playing games and watching videos, so your child won't be spending as much time on their phone as they would be on a bigger screen. Palm Phone, which is about the size of a credit card, is not only durable (it's dust and water resistant), but its smaller screen also helps your child reduce their screen time without your having to control it for them.  
Approved Contacts Only 
If you don't want your young child to be in contact with certain people or want to choose whom they can text or call, Pinwheel Plus 2 can be a good choice of phone. Pinwheel allows you to create an approved contacts-only list, and you can monitor your child's messages and calls. It's a special parental-control-oriented version of Samsung Galaxy A13, with no browser or app store. As a parent, you have the option to pick checked and approved apps by child psychologists, so you could protect your child against certain mental health problems.  
Games or No Games? 
It is generally not advisable to let young children play games on phones for long periods of time, even if they throw tantrums over it. But you can't ban them from having cell phones entirely, either.  
If you don't want your child playing games on their phone, Gabb Phone Z2 is one of your best options. Your child can't have access to the internet, games, or social media on this phone. So, if your young child's accessing the internet is a big concern for you, Gabb Z2 can meet your expectations of a safe phone. On this phone, you can keep in touch with your child through calling and texting. Moreover, with its reasonable price of 99.99$, it can be a good starter phone for your kid.  
That being said, it can be frustrating to restrict your child from using phones for entertainment. Many children like to play games on their phones and get cranky if you don't allow them to. Therefore, many parents decide to let their children have some time to play games on their phones. VTech KidiBuzz 3, which is something between a phone and a tech toy, enables your child to play their favorite games, while still letting you keep in touch with them online. The problem is, messaging and calling are only available via WiFi. There is no GPS on KidiBuzz 3 either. It is available at 47.99$.  
Best Phones for Teens 
Teenagers require more privacy compared to smaller children, but that doesn't mean you should give up parental controls on their phones. Although they are growing up, they still need you to keep them safe, even if they object to it. You can decrease parental controls on their phones to allow them more freedom and privacy as they grow older. This way, they can gradually learn to keep themselves safe on digital devices by the time they turn into adults.  
If your tween is turning into a teen, chances are they won't accept using a kiddie-looking phone anymore. Teens can be easily embarrassed by things, mainly because they need to look "cool" in front of their friends. So, they will probably demand a grown-up phone soon.  
This change can be stressful for you as a parent, and rightfully so. To make this transition as smooth as possible, there are a couple of things you should know:  
There are phones on the market that provide a grown-up look but still feature semi-strict built-in parental controls. 

 

Grown-up phones can become just as safe as kids phones. 

 
Here, we will introduce some of the best phones for this transition, and the most important features you need to consider:  
Camera 
If your teen is allowed to be on social media platforms such as TikTok, Instagram, or Snapchat, they are definitely going to want a smartphone equipped with a high-quality camera for taking selfies and making videos.  
Also, if your teen is interested in digital photography and wants to dive into that, it would be much cheaper to get them a smartphone equipped with a good camera, rather than a semi-professional digital camera to get them started on photography. Currently, the best cameras on smartphones belong to:  
Apple iPhone 14 Pro Max

: The latest, most advanced iPhone yet, this phone is by no means inexpensive, but is an excellent device if you want the best camera phone for your kids. It is available at the price of 1099$. Below, you can see the characteristics of its multiple lenses: 

 
Rear cameras: 48MP main with 2x optical zoom, 12MP ultrawide, 12MP telephoto with 3x optical zoom  
Front camera: 12MP  
Google Pixel 7 Pro

: If you prefer Android to iOS, this is the best Android camera phone on the market. Google Pixel 7 Pro is nothing short of its iOS rival regarding photography. Its price starts at 899$, which is much more affordable than iPhone 14 Pro Max. Its multiple rear and front lenses are listed below: 

 
Rear cameras: 50MP main, 12MP ultrawide, 48MP with 5x optical zoom  
Front camera: 10.8MP  
Operating System 
If you're just making the transition from a kids phone to a grown-up phone for your child, you might want to pick one that has the same operating system as your own phone. If your phone's operating system differs from your child's, you might have some trouble setting parental controls on it.  
Get a Phone with a Familiar OS
Smartphones come with two major operating systems: Android and iOS. iOS only works on Apple devices, while Android, an open-source operating system, works on various phone brands. The user interfaces of these two operating systems are thoroughly different. Users of iOS need time to make heads or tails of Android and vice versa. It is best that you pick a phone with the same operating system as your own.  
Below we will introduce some of the best phones with either operating system that can be suitable for your teen:  
Android Phones
One of the most beneficial options for you and your child, the Bark Phone, is actually a Samsung Galaxy A13 that comes with built-in parental controls. It looks exactly like a regular A13, so your child won't be as reluctant to use it. The Bark Phone enables you to track your child wherever they go and manage the apps on their phone. Currently, you can only preorder it at the starting price of 49$ per month with no contract.  
iPhones 
If you prefer iOS, Apple has a model suitable for teens. Apple iPhone SE can be a good choice for your child. Apple also provides you with basic parental control options, so you can locate your child's phone and manage their screen time. It's noticeably less expensive than other iPhone models, which aren't exactly known for their reasonable prices. It is priced at 429$.  
Which is safer: Android or iOS? 
Contrary to popular belief, there isn't much difference between the safety measurements of the two operating systems.   
iOS has a stricter user privacy policy by not letting apps share user data with a third party. However, this issue doesn't make iOS notably safer. In Android, you can give or deny each app's access to your data and its permission to share it with a third party. By restricting access and denying permission, you can make Android equally secure as iOS.   
As a matter of fact, iOS's privacy policy can be an obstacle to parental control apps that help keep your child safe. As a result, some of the monitoring options available to Android users are not available to iOS users. Therefore, to get the most out of parental control apps, we suggest getting an Android phone for your child.   
Help Your Kid Keep Their Phone Secure 
Although you need to keep an eye on your child's phone, it is necessary that they're aware of how to keep themselves safe, too.  
Below are a few simple things you should teach your child about digital security:  
Account Protection  
Any smartphone made in the past ten years is protected with a user account. iOS users have Apple ID, and Android users have Google Accounts and Gmail. If you teach your child to keep their account password safe and private, they will be protected from most cyber security risks.   
Phone Protection  
All phones have the ability to be protected by a password, pin code, pattern, and biometrics. Biometrics include fingerprint, eye, and face detection. Using at least one of these protection methods is a must for every phone user.   
Malware  
Malware is any program made to harm your device or yourself. They cause your phone to slow down, stop working, or send your personal data to a third party.   
You can make your child's phone safe from malware first by installing mobile security apps and, secondly, by teaching your child to be careful about the links and files they receive. Instruct your child not to open files or links from strangers.   
Hackers & Phishers  
Hackers access your phone to steal data or harm your device. Phishers, on the other hand, steal your data usually by deceiving you. By instructing your child to choose a strong password for their accounts, you have gone half the way to protect them. However, the protection will be complete if you teach your child not to give personal information to people they don't know or open and download suspicious links and files.   
A More Convenient Solution: Parental Control Apps 
All in all, the truth is that the device you pick for your kids is not nearly as important as teaching them to use it properly. If you are clear about the rules of owning a cell phone from the get-go, your child will be more likely to follow them. And of course, you're going to have to set a good example for them, too. You can't expect your child to follow rules you yourself are breaking.  
Anyway, whether you decide to indulge your child with a high-tech smartphone, or to stick with a simpler model, you certainly need to make sure they are using their phone safely. Most phones have parental control options, but since phone companies don't specialize in parental controls, it is far more convenient and secure to use parental control apps. Such apps focus solely on the safety of your child on various digital devices.  
Safes: The Ultimate Parental Control Option 
Safes, one of the most reliable parental control apps available on the market, can guarantee your child's safety on every digital device they possess, without making you set parental controls on each one separately. You don't even have to buy a special kids phone that your child would soon grow out of, you can make any phone perfectly secure. With its reasonable prices, Safes is a fantastic choice for every concerned parent. Safes comes in two editions:   
Safes: Installed on the parent's phone, giving them parental control access over their child's phone  

 

Safes Kids: Installed on the child's phone, providing monitoring and controlling access to the parent  

 
We suggest installing Safes Kids on your child's phone before giving the device to your child. After pairing your child's phone with your phone using Safes and Safes Kids, you don't need to touch their phone again. Safes will collect data from your child's phone and send them to you.   
You'll receive daily, weekly, and monthly reports about your child's mobile use. With the help of these reports, you will know if your child is overusing any apps, and then you can set a screen time limit on their phone. You can also restrict your child's access to inappropriate content by blocking certain websites and keywords. Using the geolocation tools, you can see your child's live location and receive reports of their location history.  
Read the complete list of Safes's features and plans on our website. 
Frequently Asked Questions
We've compiled a list of questions and answers to help provide more information on the topic we discussed. If you have any more questions, please don't hesitate to contact us. We'd be happy to help!
Are iPhones safer than android phones for children?
iPhones and Android phones are not much different in regards to their safety for children. iPhones have stricter privacy policies, not allowing apps to share user data with a third-party device. However, this feature doesn't make iPhones particularly safer than Android phones because you can restrict each app's access and permission individually in Android settings. 
Should I buy an expensive phone for my child?
Labelling a phone expensive or cheap is a relative issue. It depends on your income and where you live. Generally speaking, it is wiser not to buy an exceptionally expensive phone for your child since it can cause envy among their peers. Also, children are prone to losing their belongings and are easy targets for thieves. Since most middle-range phones have the basic specs to satisfy your child's needs, we suggest not buying a device you would regret a lot if your child lost it. 
Are there special phones for kids?
Yes, there are phones specially designed for children. They usually have a simplified user interface, limited access to the internet and some apps, default parental control settings, and preinstalled kids' apps. Due to their basic hardware, they're usually cheaper than top-notch phones.