As the leaves start to fall and the nights begin to get longer, Halloween is just around the corner. It's a time of excitement and anticipation for children as they look forward to dressing up in costumes, going trick-or-treating, and participating in fun Halloween activities. Halloween games for kids are a great way to get the little ones involved in the season's spirit. They can help enhance creativity, promote teamwork, and provide a fun and entertaining experience for the whole family.
In this article, we'll explore 15 of the best Halloween-themed games for kids that will spook and delight your children and their friends this Halloween season.
Mummy Wrap Race
Transform your little ones into ancient mummies with this exciting Halloween game. To play the mummy wrap race, divide the children into teams of two or three. Each team gets a roll of toilet paper, and they must use it to wrap one of their team members from head to toe. The first team to finish their roll of toilet paper wins. This game encourages teamwork and offers a lot of laughs, making it one of the most popular fun Halloween games for kids.
Donut Chomp Challenge
The Donut Chomp Challenge is a delicious and hilarious game that children of all ages will enjoy. Hang ring donuts from a string at a height just above the children's mouths. The aim is to eat the donut without using their hands, and the first one to finish their donut wins. This challenge will definitely bring about lots of giggles and is a great way to incorporate some sweet treats into your Halloween festivities.
Pumpkin Balloon Pop
Add a pop of excitement to your Halloween party with the pumpkin balloon pop game. Inflate orange balloons and draw pumpkin faces on them using a black marker. Hide small treats or slips of paper with fun tasks written on them inside the balloons before inflating them. The children can then take turns popping the balloons to reveal their surprise. This game will keep the children entertained and eager to discover what's inside their balloons.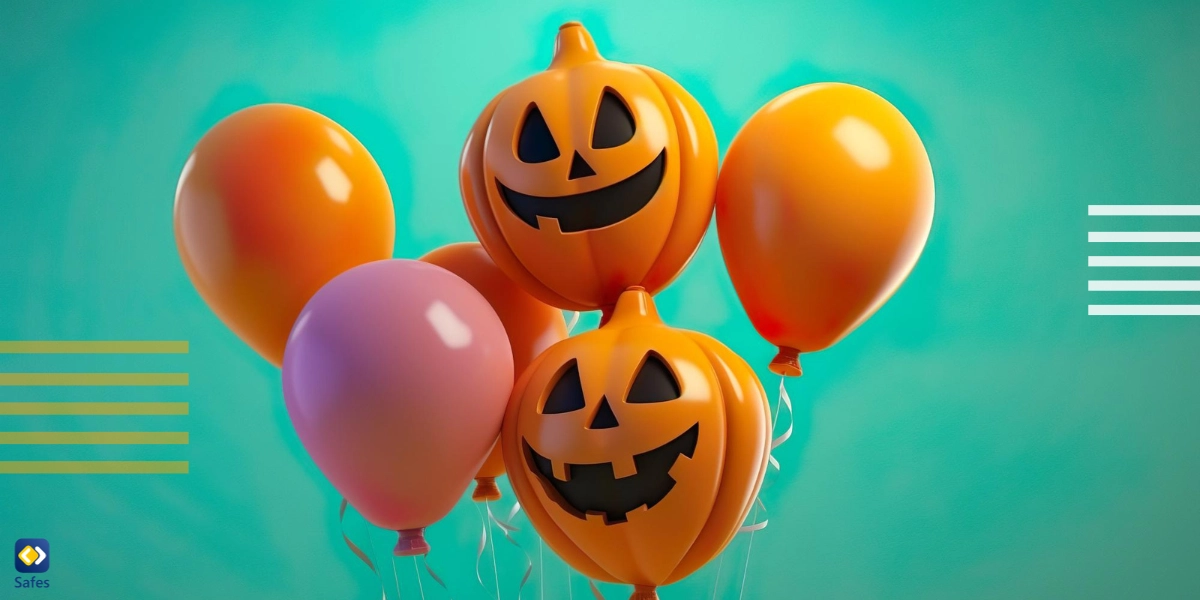 Pumpkin Mini Golf
Turn your backyard into a mini-golf course with this creative Halloween game. Carve out a hole in a large pumpkin and use it as the goal. Provide each child with a mini golf club or a broomstick and a small ball. The aim is to get the ball into the pumpkin with the least number of strokes. The pumpkin mini golf offers a fun challenge and helps improve the children's motor skills.
Ghost Puzzle Challenge
Challenge the children to a ghost puzzle challenge. Cut out ghost shapes from white cardstock and divide each ghost into several pieces to create a puzzle. Mix all the pieces together and divide the children into teams. Each team must work together to assemble their ghost puzzle. The first team to complete their ghost wins. This challenge is a fun Halloween game for kids that also encourages problem-solving and teamwork.
Witch's Potion Mix
Unleash the inner witches and wizards in your children with the witch's potion mix game. Provide each child with a cauldron (or a bowl) and a variety of spooky ingredients like gummy worms, candy eyeballs, and popcorn kernels. The aim is to create the most delicious or the most disgusting potion mix. Making potions is sure to ignite the children's imaginations and create lots of fun memories.
Bobbing for Apples
Bobbing for apples is a classic Halloween game that never loses its charm. Fill a large tub or basin with water and float some apples in it. The children must try to pick up an apple using only their mouths. Bobbing for apples is fun and offers a refreshing break from the sweet treats.
Witch's Hat Ring Toss
The witch's hat ring toss is a simple yet exciting game that can be played indoors or outdoors. Set up a few witch's hats and provide the children with rings. The aim is to toss the rings and land them on the witch's hats. The game can be made more challenging by increasing the distance between the children and the hats.
Monster Face Painting
Add an artistic touch to your Halloween party with a monster face painting station. Provide non-toxic face paints and brushes and let the children paint each other's faces with spooky designs. Face painting provides a fun diversion and allows the children to express their creativity.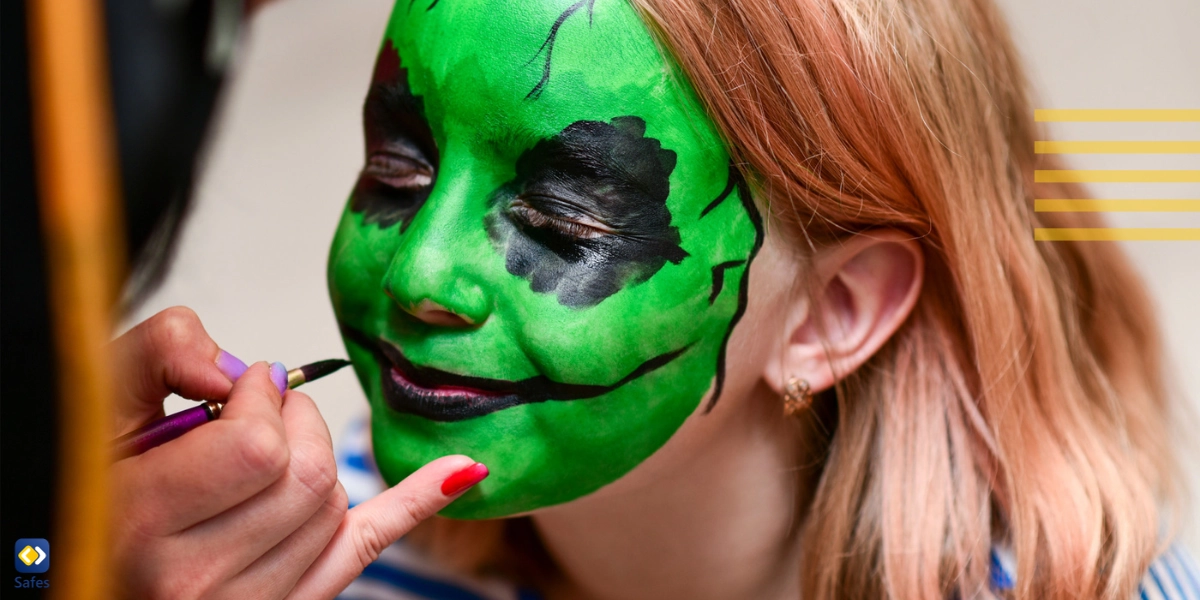 Halloween Bingo
Halloween bingo is a game that can be enjoyed by children of all ages. Create bingo cards with Halloween-themed pictures or words. Draw the images or words from a hat, and the children must mark them on their bingo cards. The first child to complete a row of pictures or words shouts "Bingo!" and wins. This game provides entertainment and helps the children improve their listening and concentration skills.
Candy Corn Relay Race
The candy corn relay race is a fun and active Halloween game that gets the children moving. Divide the children into teams and provide each group with a spoon and a bowl of candy corn. The aim is to move the candy corn from one bowl to another using only the spoon held in their mouths. The team that transfers the most candy corn within a set time limit wins.
Pumpkin Tic Tac Toe
Pumpkin tic tac toe is a Halloween-themed take on the classic game. Draw a tic tac toe grid on a piece of paper or a chalkboard. Use small pumpkins or Halloween-themed stickers as the markers. This game not only provides entertainment but also encourages strategic thinking.
Spooky Storytelling
Spooky storytelling is an excellent game for older children. Have the children sit in a circle and start a spooky story. You can try reading spooky stories from Halloween-themed books for children. Each child then takes turns adding a sentence or two to the story. Storytelling not only sparks the children's imaginations but also creates a spooky atmosphere.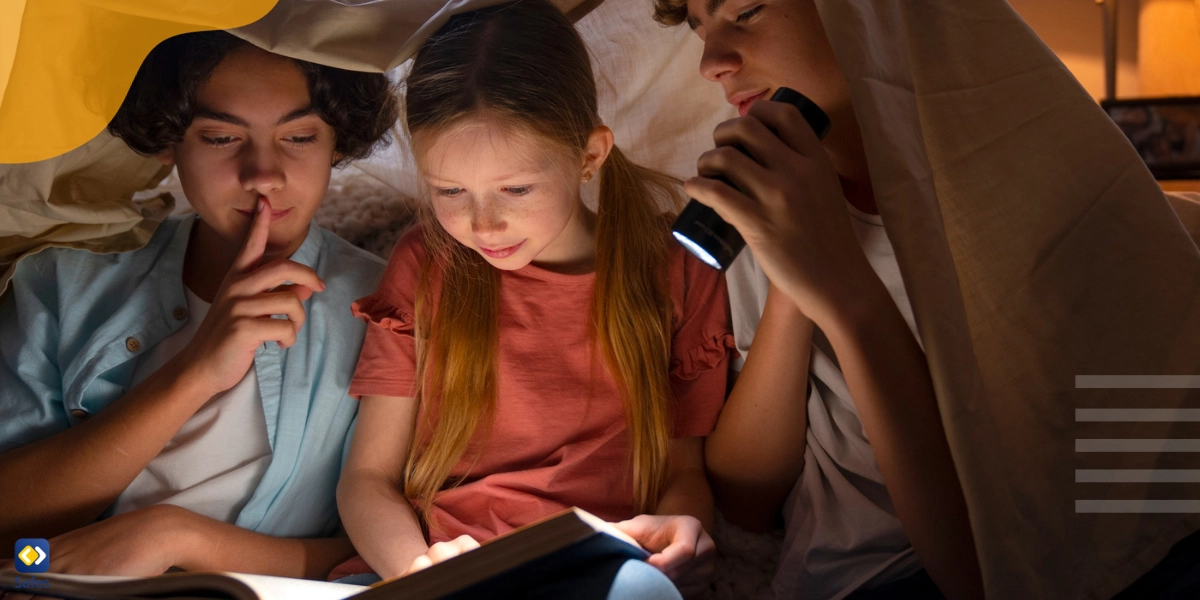 Halloween Scavenger Hunt
A Halloween scavenger hunt is a fun and adventurous game that your child can play both indoors and outdoors. Create a list of Halloween-themed items for the children to find. The first child or team to find all the items wins. The Halloween scavenger hunt provides fun and excitement and encourages the children to work together as a team.
Halloween Charades
Halloween charades is a game that can be enjoyed by children of all ages. Write down Halloween-themed words or phrases on slips of paper. The children then take turns picking a slip of paper and acting out the word or phrase without speaking while the others guess what it is. Charades provides entertainment and helps the children improve their communication and acting skills.
Keeping Children Safe While They Play Online
Children spend a fair share of their time online surfing the internet, chatting with friends, or playing games. There's no harm in this, though, as long as they:
Take regular breaks
Limit their screen time
Play age-appropriate games in a safe environment
Avoid risky apps
Restrain unnecessary communications with strangers
Unfortunately, children tend to become so engrossed in the online world that they often forget to take breaks, and sometimes spooky online games become too scary for their age. Meanwhile, it's good to know that the American Academy of Pediatrics recommends as little as 1 hour of screen time for children between 2 and 5 and only 2 hours for older children.
Children's screen time is alarming, but you don't need to worry because by using digital tools such as the Safes parental control app, you can monitor and limit their screen time and make them take regular breaks. Moreover, you can block harmful apps, websites, and search keywords, keeping them safe from harmful content.
Feel free to download Safes from our website or Google Play and AppStore.
Wrap-Up
These Halloween games for kids offer a fun and interactive way to celebrate the spooky season. They provide an excellent opportunity for your child to bond with their friends and family while enjoying the Halloween spirit. So, whether you're planning a Halloween party or just want to add some extra fun to the holiday, these Halloween game ideas for kids will surely be a hit. Don't forget to use the Safes parental control app to ensure your child's online activities are safe and secure during the Halloween season and beyond. Happy Halloween!