As technology advances, children are increasingly confronted with digital platforms. There has been a notable upswing in the gaming space, especially as major players like Epic Games launched a large number of fan-favorite titles. However, children's use of these platforms often raises concerns about the safety of our younger players, the sanctity of privacy, and the potential exposure to content that is inappropriate. But Epic Games parental controls and third-party parental control apps can mitigate these risks by providing a safety net for parents. 
Understand epic games
Epic Games, acclaimed in the gaming world, is the creative genius behind fan favorites like Fortnight , Rocket League and Fall Guys. But they're not just a gaming giant – they also have the Epic Games Store, a digital marketplace full of games for sale and download. In the gaming universe, the Epic Games name resonates in every corner thanks to its vast and immersive gaming ecosystem. 
However, with the popularity of these games, the need for parental guidance becomes more important. This is where Epic Games' parental control PIN and other built-in controls come in handy. 
The need for parental controls on gaming platforms
Parental controls are important tools that help you manage and monitor your child's online gaming activities. They give you the ability to restrict access to games based on their requirements other than content ratings , control in-game purchases, limit online interactions, and even track playtime. Parental controls provide a safe environment for children to enjoy their favorite games while giving parents peace of mind. 
Parental controls can help your child avoid unnecessary interactions with strangers, thereby reducing the risk of becoming a victim of online harassment , such as cyberbullying , sextortion , and scams are then less dangerous . They also protect your loved ones from inappropriate images, videos, messages and advertisements. Not to mention, parental controls are necessary to protect your child's mental and physical health by limiting screen time. 
Main Features of Epic Games Parental Controls
Epic Games offers a comprehensive suite of parental controls to provide a safer gaming environment for children. These controls can be customized to suit different ages and needs, giving you control over your child's gaming experience. 
Enabling parental controls for Epic Games
You must set up a six-digit parental controls PIN to enable Epic Games parental controls. This PIN will be required in the future to change parental controls. You can set up parental controls in two ways: 
Or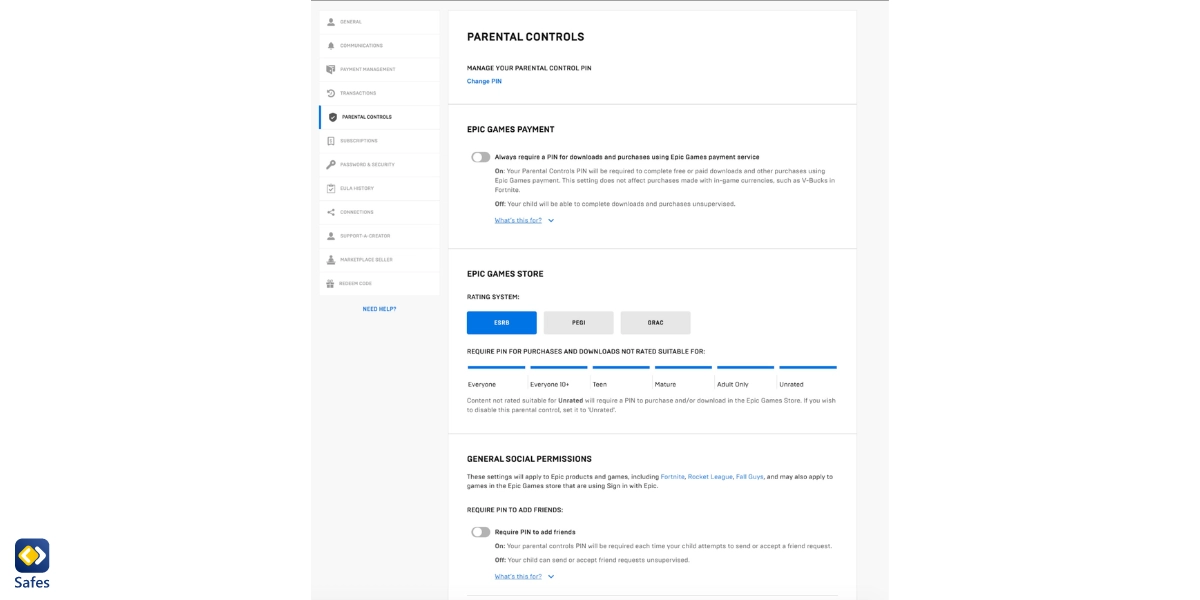 Friend requests and social interaction settings
Epic Games lets you control your child's social interactions within their games. You can manage your child's ability to send and accept Epic friend requests, as well as participate in voice and text chat with fellow players. Adjusting these settings can help limit your exposure to potential online threats. 
Customize parental controls for different age groups
Epic Games parental controls can be customized for different age groups. You can restrict access to games based on their age rating, making sure your child only plays games that are appropriate for their age. You can also control in-game purchases to prevent unauthorized transactions. 
Troubleshooting and Challenges
Forgetting the parental control PIN is a common problem that parents face. However, Epic Games offers a straightforward PIN recovery process. You can reset your PIN by clicking the link sent to the email associated with the account.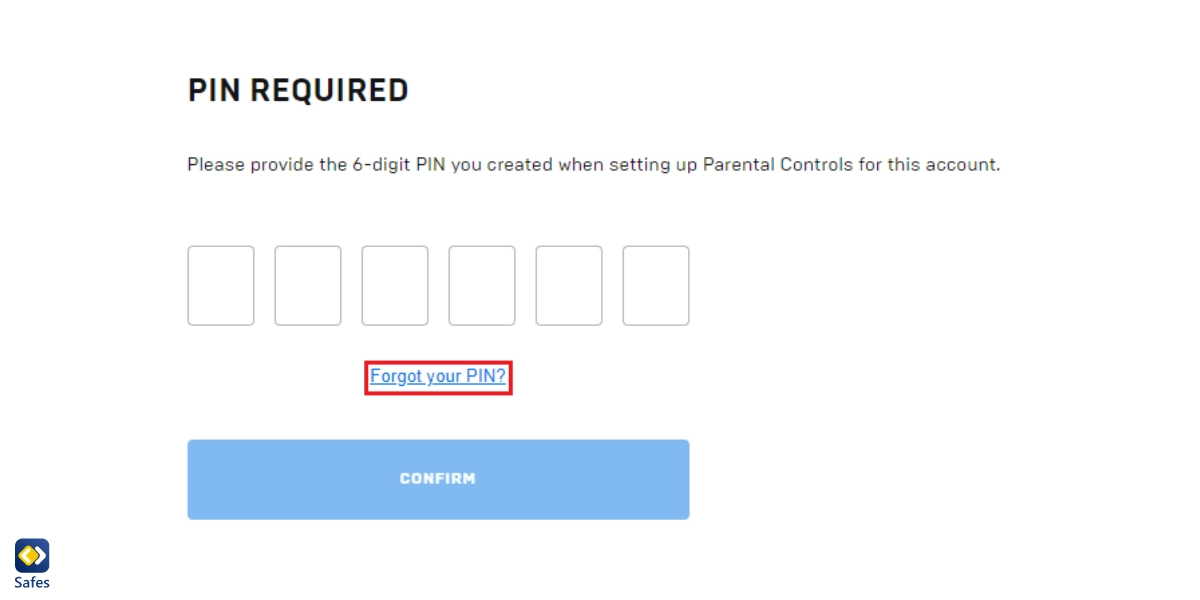 Strategies for effective parental supervision
While parental controls provide a robust safety net, they are most effective when combined with active parental supervision and open communication. We encourage you to talk to your child about the games they play and the people they interact with online. Regularly reviewing your child's play activity can help identify potential problems early on. 
Balancing gaming and real life: Encouraging healthy habits
One of the areas that you need to monitor closely is your child's daily routine such as screen time . While games can be a fun and engaging activity, kids need to find a balance between their digital and real-world activities. You should therefore encourage regular breaks from play, encourage physical activity and ensure that play does not interfere with your child's academic and social life. 
One digital tool that you can use to monitor your child's gaming habits is parental control apps. We will explain more to you below. 
The role of parental control apps
Aside from the built-in controls that gaming platforms offer, parental control apps like Safes offer an extra layer of protection. Safes can help limit screen time, block access to inappropriate games, and monitor online activity. It can be a handy tool to create a safe and healthy digital environment for your child. 
You can install Safes on all iOS, Android, Windows and Mac devices. So depending on the platform you and your child use, download Safes Appstore or Google Play are suitable . For more information on setting up parental controls on each of these platforms using Safes, follow these links: 
Epic Games Parental Controls: Last Words
We must ensure that our children can safely navigate the online world. By using tools like Epic Games parental controls and third-party parental control apps, you can provide your child with a safer and more controlled gaming environment. 
However, parental controls are only part of the solution. Open communication, active supervision, and encouraging healthy play habits are also important to fostering your child's positive and safe play experience.