In our digitally transformed world, children and teens are increasingly exposed to the internet and its multiple platforms at a tender age. While the internet stands as an advantageous tool that has revolutionized communication and access to knowledge, it has, unfortunately, spawned new types of intimidation and bullying. Online harassment, or cyber harassment, is a burgeoning issue that deeply worries us all, given its significant impact on a child's mental health and overall joy. This all-inclusive guide will illuminate the characteristics of cyber harassment, ways to identify warning signs, the usual platforms utilized for such bullying, strategies for parental involvement and prevention, methods to respond to online harassment incidents, bolstering your child's resilience, and a useful compilation of resources and tools for parents.
Understanding Cyber Harassment
In the digital space, the specter of cyber harassment, or what many know as online bullying, looms large. It's the dark side of technology, where people use online platforms to demean, scare, or even torment others. Examples abound—from the spread of harmful rumors, non-consensual sharing of explicit material, direct verbal attacks, threats of physical harm, relentless online following to the dangerous act of revealing someone's private information without permission, often labeled as "doxing" or "revenge porn."
Every device that can connect to the internet, be it your handy smartphone, laptop, tablet, or even gaming console can unfortunately serve as a stage for these damaging deeds. The fallout can be severe, often leading to anxiety, depression, and even stress-related health issues.
From a legal perspective, the definition of cyber harassment can vary across regions, but it's usually recognized as a criminal act. There are several laws, such as those against harassment, stalking, and identity theft, that can be leveraged to bring perpetrators to justice. It's critical to be well-versed with the relevant laws in your area. In the unfortunate event that your child becomes a victim of online bullying, taking the correct legal measures is absolutely essential.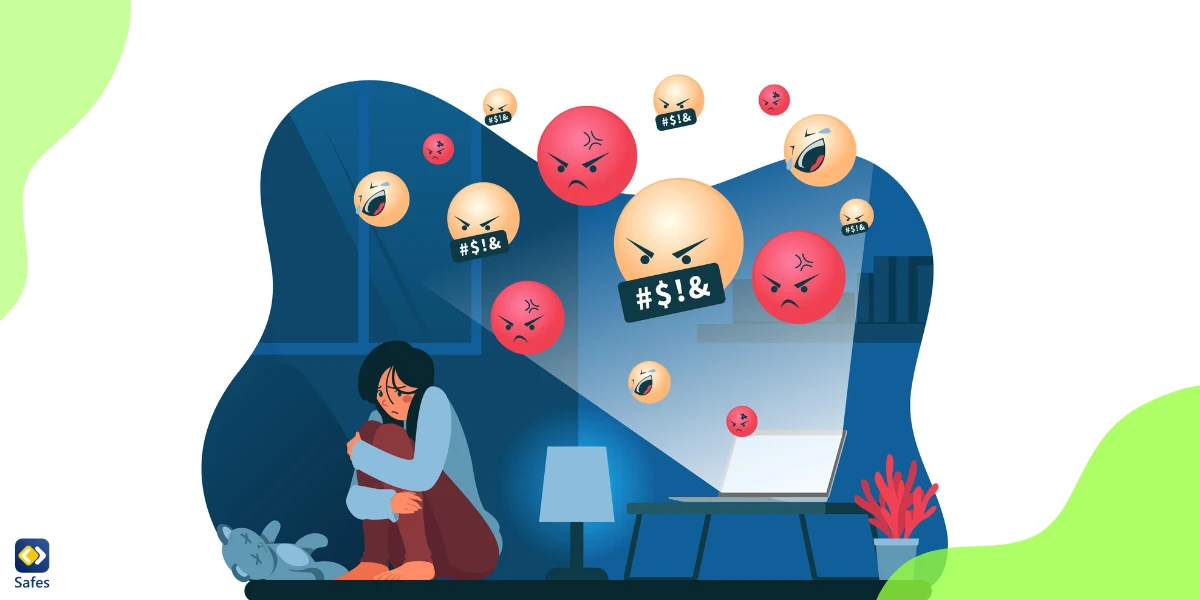 Recognizing Signs of Cyber Harassment
Navigating the murky waters of cyber harassment can be a tough gig, especially when kids keep mum about it or don't even realize they're caught in its swirl. But hey, there are telltale signals that parents can tune into. Notice your kid holed up in their room more than usual, acting all hush-hush about their online activities, or steering clear of school or social shindigs? Are their grades on a downhill slide, or have you spotted a shift in their mood, behavior, sleep patterns, or eating habits? And what if they suddenly want to hit the off button on their computer or gadget? If any of these red flags are flapping in the wind, it's time to face the music, sit down with your child, and tackle the problem head-on.
Popular Platforms and Cyber Harassment
In the digital age, no platform is safe from the reach of cyber harassment. From the bustling social media streets of Facebook, Instagram, and Twitter to the private messaging corners of WhatsApp and Snapchat, these platforms are often misused for harmful activities like cyber harassment. This is mainly due to the anonymity and ease of creating counterfeit profiles.
Messaging apps, with their disappearing messages feature, provide a convenient avenue for harassers since there's no record of their inappropriate behavior.
The world of online gaming isn't spared either. In-game chats can become a battlefield, where players are bullied and harassed. In extreme cases, this virtual harassment has even spilled over into the real world, resulting in physical violence.
Parental Involvement and Prevention
We believe parents are the frontline defense against cyberbullying. It's vital to have an open dialogue with your little one about navigating the internet safely, coupled with well-defined rules and boundaries for their online interaction. Keeping a vigilant eye on their digital footprints and understanding the platforms they frequent is a must.
Equally crucial is instilling in them the risk involved in revealing personal details on the internet and the right way to handle and report any online intimidation. We need to promote digital respect and urge parents to foster this attitude in their children, encouraging them to report any cyberbullying they encounter.
Parents partnering with school authorities can lead to effective policies and procedures to counter cyberbullying, while also creating a wider awareness about this pressing issue.
Responding to Cyber Harassment Incidents
In the unfortunate event that your child experiences cyberbullying, it's paramount to jump into action swiftly. Kick off by having an open conversation with your child, providing a safe space filled with reassurance and support. Make it crystal clear that they're not at fault and that you're committed to tackling this problem together.
As guardians, it's your responsibility to bring such instances of cyberbullying to the notice of relevant authorities, be it your child's school, your internet service provider, or even law enforcement. Remember to document any harmful messages, images, or texts, as these could serve as critical pieces of evidence. Don't hesitate to enlist the aid of a professional therapist or counselor to navigate through your child's emotional landscape during this challenging time.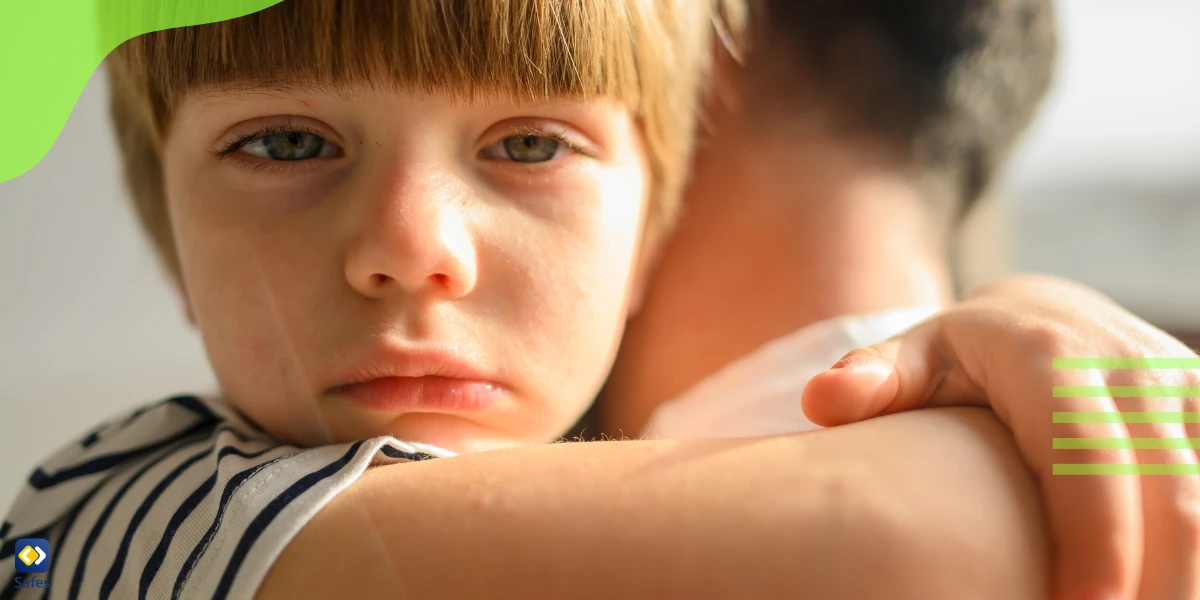 Supporting and Empowering Your Child
It's absolutely crucial to bolster and uplift your child in the unfortunate event of online bullying. Spark open-hearted conversations with your child about their emotions and make certain they know you're their unwavering ally. Assist your child in cultivating resilience tactics and educate them on the apt responses to online harassment instances. Likewise, keeping a close eye on your child's emotional wellbeing is key, and don't hesitate to reach out to mental health professionals when required.
Resources and Tools for Parents
There are many resources and tools available to help parents deal with cyber harassment. Stopbullying.gov is an excellent resource for information on cyber harassment and how to prevent it. Common Sense Media and NetSmartz are also great resources for parents, offering tips and tools for keeping children safe online.
There are also parental control apps like Safes available that allow you to monitor your child's internet activity and set limits on their device usage. The Safes app can be your child's digital guardian, proactively safeguarding your child's online environment. With Safes, you're given the power to monitor your child's online activities, identify potential bullies, and even intercept harmful content before it reaches your child. The app works tirelessly, scanning in-app game conversations, social media interactions, and more, ensuring your child's engagement remains healthy and positive. Safes parental control app isn't just a tool, it's a commitment to prevent online harassment and make the digital world a safer place for our children.

Safes is available on all Android, iOS, Windows, and Mac devices. To learn how to put parental controls on each of these platforms using Safes, follow the links below:
Cyber Harassment: Conclusion
Digital intimidation is a grave concern with significant implications for a child's emotional stability and overall wellness. As guardians, grasping the concept of digital intimidation, recognizing the indicators, and knowing how to react if your young one falls prey is of utmost importance. Adopting preventative measures against digital intimidation while bolstering and empowering your child, is an effective strategy to safeguard them in the online universe.