What are the dangers of the internet? If you're a parent, you've probably asked this question several times. Truth is, online dangers are various, but some of them are far more serious. Recently, t
he Internet and digital devices such as phones and computers have given birth to an evil form of bullying:
cyberbullying
. This new form of
bullying
occurs through different digital platforms, including
social media
,
gaming platforms
, and
messaging apps
. In this guide, we'll talk about the seven common attacks of cyberbullies, how cyberbullies harm others, and practical strategies to combat this digital menace.
The Many Faces of Cyberbullying
Cyberbullying is one of the most common internet dangers that can take on various forms, each with its unique set of harmful impacts on the victims. Let's explore each one in detail.
Offensive and Hurtful Messages
Cyberbullies often use offensive and hurtful messages to emotionally torment internet users; that's why cyberbullying is one of the worst dangers of the internet for youth. Such messages instill fear, anger, or shame in young people. They can lead to severe emotional distress, leaving the victim isolated, depressed, and vulnerable.
Online Harassment
Online harassment is another common strategy employed by cyberbullies. It involves repeatedly sending threatening or hurtful messages to the victim, causing them perpetual fear and anxiety. The persistent nature of this form of cyberbullying can significantly impact the victim's mental health.
Impersonation and Identity Theft
Impersonation means the cyberbully creating a fake online persona or hijacking the victim's online identity to send malicious messages or posts. Identity theft can severely damage the victim's reputation in both the online world and real life, and strain their relationships with friends, family, and colleagues.
Doxxing and Privacy Invasion
Doxxing is one of the dangers of the internet that shouldn't be overlooked. It involves deliberately exposing the victim's personal information on public platforms, including their home address, phone number, email address, or social security number. The invasion of privacy leads to emotional distress and poses a significant threat to the victim's safety.
Spreading False Information
Cyberbullies often resort to spreading false information or rumors about the victim. This act of defamation can cause significant harm to the victim's reputation and self-esteem.
Exclusion and Online Shunning
Exclusion involves the intentional omission of the victim from online groups or activities. Exclusion and social isolation can lead to feelings of loneliness and depression.
Image-Based Attacks
Cyberbullies may resort to image-based attacks, also known as "revenge porn," where they publicly share explicit or compromising photos or videos of the victim without their consent. Image-based attacks can lead to extreme embarrassment and mental trauma in the exploited children.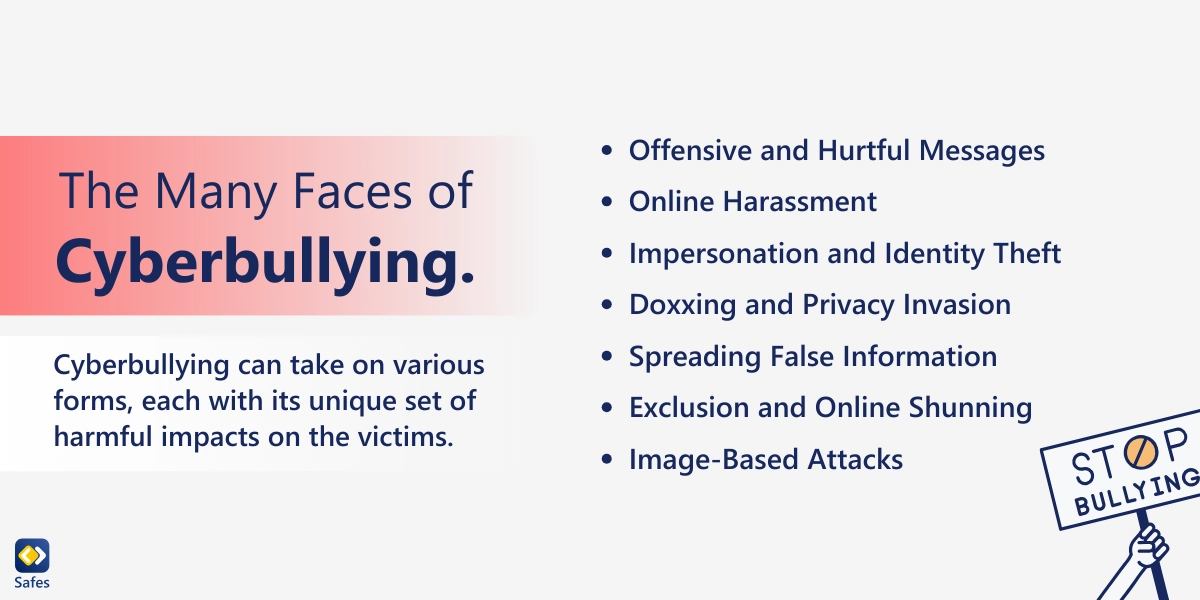 Solutions to Combat Cyberbullying
Addressing cyberbullying requires a comprehensive approach involving parents, schools, tech companies, and the community. Here are some strategies to help tackle this issue and increase children's internet safety:
Education and Awareness: Educate your child about the dangers of the internet for youth, including the various forms of cyberbullying. Schools also play an essential role in children's awareness. Cooperate with your child's school in awareness campaigns to promote a safe and respectful online environment.
Open Communication: Encourage open and non-judgmental discussions about your child's online experiences and the internet dangers they can encounter. This strategy would foster an environment where your child feels comfortable discussing any instances of cyberbullying they might encounter.
Monitoring and Reporting: Regularly monitor your child's online activities for signs of cyberbullying and other potential dangers. If you spot any form of cyberbullying, firstly, report it to the platform your child is using. Then, secure your child's account and private data. Finally, report the incident to the authorities if necessary.
Use of Parental Control Apps: Use parental control apps to check your child's online activities. These apps can help restrict access to harmful content and keep them safe online.
Introducing the Safes Parental Control App
The Safes parental control app is a powerful tool in the fight against cyberbullying. Features like content filtering, activity monitoring, time management, and monitoring online games allow you to closely monitor and manage your child's internet use.

Using the Safes app, you can protect your child from inappropriate content or online predators, limit screen time, and monitor their interactions on social networking sites. This way, you can detect cyberbullying early and take appropriate action.
Safes offers both a limited free plan and a premium paid plan. Feel free to download it on our website, Google Play, or App Store to discover the unlimited tools that Safes offers for child protection.
Conclusion: How Do Cyberbullies Harm Others
While the question of "What are the dangers of the internet?" may have various answers, it's important for parents to educate themselves on all of them. Cyberbullying is one of the most common online dangers that can have long-term psychological impacts on the victims. But you can protect your child with proper awareness, open communication, and tools like the Safes parental control app. If your child or someone you know is experiencing cyberbullying, contact a national center for help and support. If you are a minor, don't hesitate to talk to your parents or a trusted adult.