Executive dysfunction might seem like a complex word, but it's a condition that many people are dealing with. Imagine you're working on an important task at work. Your coworker comes to you and asks a silly question. Instead of telling them to wait until you get the job done, you lose focus on what you were doing and get totally distracted. That's what executive dysfunction does to humans' brains. Now imagine that in addition to executive dysfunction, you also have anxiety. You can see how the situation can get 10 times worse with anxiety.
Children who suffer from executive dysfunction and anxiety experience lots of difficulties. It's especially important to address these conditions in children to help them grow into mentally healthy adults. In this blog post, we will discuss this vicious pair and offer ways to support children facing this challenge.
Understanding Executive Dysfunction and Anxiety
Executive dysfunction is a disorder that causes difficulty in managing one's own thoughts, feelings, and actions. Simply put, executive dysfunction is a disorder in the brain's executive functions. What are the executive functions?
Working Memory: Working memory is responsible for holding a limited amount of information about what you are doing right now. In contrast, short-term and long-term memories usually hold an unlimited amount of information about the events that are happening in the course of days, months, or years. In other words, working memory is like a station where things come and go, while short- and long-term memories are like a depot.
Cognitive Flexibility: Cognitive flexibility refers to the ability to shift from one thought to another. People with good cognitive flexibility can better process different thoughts and adapt to new situations.
Inhibition Control: Inhibition control refers to the ability to manage your thoughts and actions. This skill helps you stop yourself from doing things that you shouldn't do or focus on what matters the most.
Executive dysfunction is further worsened when paired with anxiety. In fact, a study published in the Journal of Anxiety Disorders asserts that anxiety disorders negatively affect the executive control network and cause unnecessary attention to trivial details.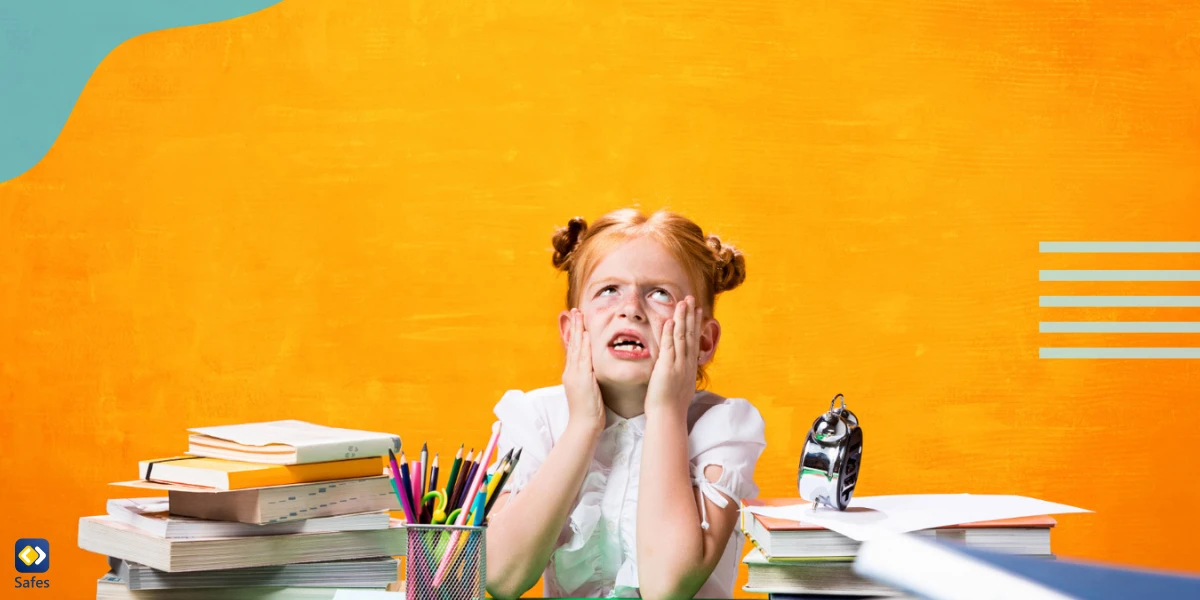 The Signs and Symptoms of Executive Dysfunction and Anxiety in Children
It's important to recognize the signs and symptoms of executive dysfunction and anxiety for early intervention. These symptoms can manifest in several ways. One of the regions that can be affected by this disorder is children's behavior. This can range from disorganization to forgetfulness, and difficulty concentrating. Children with ED difficulties may also encounter challenges when trying to plan their course of action to meet a desired outcome.
Executive dysfunction and anxiety can also affect a child's emotional and psychological well-being. Emotional indicators include taking impulsive decisions and trouble controlling emotions.
Lastly, executive dysfunction and anxiety can make it really hard for a child to excel in their studies and maintain social relationships. When trying to study, their mind keeps skipping subjects and gets distracted easily. Also, the condition makes it hard for them to manage their time and study effectively. On the other hand, they struggle with social interactions because this condition makes it hard for them to organize their thoughts. This can cause blurting out thoughts before thinking about it and lead to embarrassing scenarios. Anxiety further contributes to this situation by making them frustrated and afraid of social situations.
Causes and Contributing Factors
To date, there has been no single known cause for executive dysfunction. However, some conditions have been linked with its development. Developmental factors, such as differences in the brain structure or damage to the parts of the brain that are responsible for executive functions have been known to be associated with executive dysfunction. That's why children with attention-deficit hyperactivity disorder (ADHD) or obsessive-compulsive disorder (OCD) usually suffer from executive dysfunction as well.
Furthermore, environmental and situational factors can also trigger this condition. Studies show that stress and risky behaviors, such as smoking, being obese, and abusing drugs and alcohol increase the chances of developing executive dysfunction.
All these factors can contribute to the development of other conditions, especially anxiety disorders. That's why executive dysfunction is often called a co-occurring disorder.
Impact on Daily Functioning
The impact of executive dysfunction anxiety on daily functioning can be far-reaching. Academically, children may struggle with organization, time management, and completing tasks. They may have difficulty prioritizing assignments, staying focused, and meeting deadlines. Socially, they may experience difficulties in making and maintaining friendships, interpreting social cues, and engaging in cooperative play. Moreover, self-care and daily routines can become challenging, leading to difficulties in personal hygiene, sleep patterns, and overall well-being.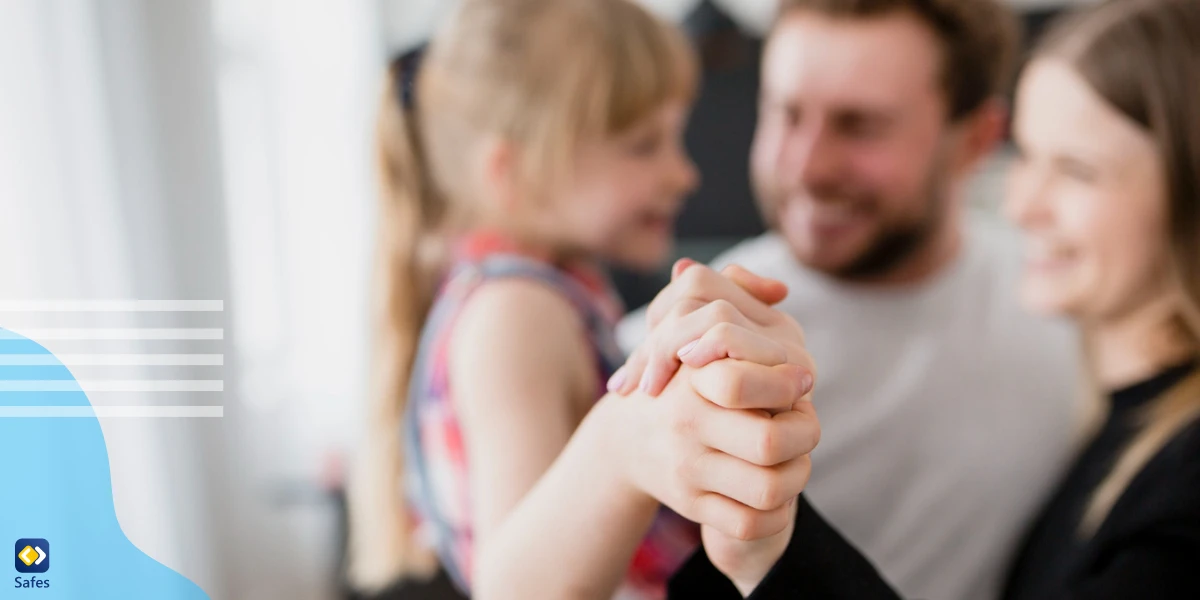 Strategies for Supporting Children with Executive Dysfunction and Anxiety
Parents need to be patient when dealing with children who suffer from executive dysfunction and anxiety. These children have a lot going on in their minds. By building a supportive and understanding environment in the family, you can help them feel at least some peace of mind within the confines of their home.
Parents should also try to teach children self-regulation and coping skills. For instance, try breaking tasks into manageable steps or provide visual aids or habit trackers that will encourage them to be organized and goal-oriented. To get a better insight into their behavioral patterns and problems, collaborate with teachers through regular communication. Also, if you see that the problem is too hard to manage, don't hesitate to contact a professional.
The Role of Parental Control Apps in Supporting Children with Executive Dysfunction and Anxiety
You might not be able to control the internal causes of executive dysfunction and anxiety in children, but the external triggers can be prevented and reduced. Many of these triggers today come from the internet. Uncontrolled internet use can cause screen addiction, expose children to violence, and promote risky behavior. However, if used correctly, technology can promote structure and organization. One way to maximize the benefits of the internet and limit its potential dangers is to use parental control apps. A parental control app such as Safes offers various features that ensure minimal exposure to inappropriate content and safety. These features range from content filtering and social media usage monitoring to screen time management. Download Safes on all devices, such as Android, iOS, or Windows, and ensure your child's online safety.
Seeking Professional Help
Knowing when to seek professional support is crucial for children with executive dysfunction and anxiety. If symptoms persist or significantly impact a child's daily functioning, it may be beneficial to consult with a healthcare professional or mental health specialist. Therapeutic interventions, such as cognitive-behavioral therapy (CBT) or medications like stimulants, antidepressants and antipsychotics, can be effective in addressing executive dysfunction and equipping children with the necessary tools for success. These professionals can provide tailored strategies and support to help children manage anxiety and improve executive functioning skills.
Conclusion
Executive dysfunction paired with anxiety is a challenging condition that can significantly impact a child's life. By understanding its characteristics, recognizing the signs and symptoms, and implementing strategies for support, we can provide the necessary tools and resources to help children navigate their challenges successfully. By creating a supportive and understanding environment, teaching self-regulation and coping skills, utilizing parental control apps, and seeking professional help when needed, we can empower children with executive dysfunction and anxiety to thrive and reach their full potential. It is crucial that we provide support and understanding for these children, helping them build a brighter and more successful future.