Online platforms such as social media, messaging apps, and games have made it easier for people to anonymously poke criticism at or judge others without fearing the consequences. Unfortunately, it also affects children. So, it's natural for your child to fear judgment online and, as a result, hesitate to express themselves. In this guide, we'll talk about the fear of being judged in children, how it forms in them, and how to help your child overcome it.
Understanding the Fear of Being Judged in Children
As social creatures, we inherently seek acceptance from our peers. The need for approval is especially accented in children and teenagers' initial stages of forming their self-concept and self-esteem. In the process, the fear of judgment is a natural part. But when the fear becomes too much, it could result in anxiety disorders or social phobia.
When children feel judged, they might withdraw and avoid expressing themselves freely. This fear of judgment can become amplified in the digital world, where interactions are often public, permanent, and lacking in the nuances of face-to-face communication.
The Impact of Online Judgment on Children
Social media platforms, online games, and chat apps are now children's main means of communication. While these platforms enable your child to connect with friends and pursue their interests, they also expose them to the risk of online judgment.
Online judgment can take multiple forms:
These experiences can impact your child's self-esteem and mental health to a great extent.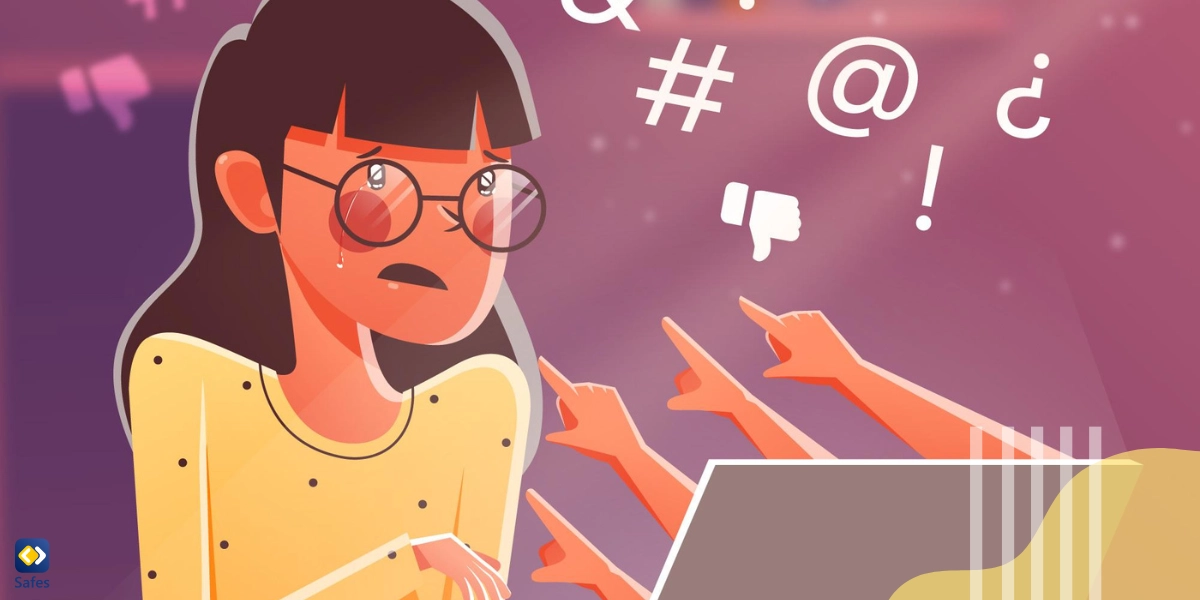 Strategies to Help Your Child
You need a multi-faceted approach to help your child learn how to cope with the fear of online judgment. Read the following strategies to learn how:
Encourage Self-Acceptance
One of the most powerful tools against the fear of judgment is self-acceptance. You should help your child understand that every person is unique, and they must embrace their uniqueness. It's impossible to be liked by all people, and that's something completely normal. The most crucial approval is their own.
Foster a Healthy Self-Image
Help your child construct a positive self-image by focusing on their abilities, achievements, and qualities. Teach them to value their efforts and not just the outcomes. These practices can help build their resilience against negative judgment.
Develop Critical Thinking Skills
Critical thinking skills can empower your child to assess the opinions of others objectively. Teach them that everyone has a right to their opinion, but not all opinions hold equal value. They should learn to discern constructive criticism from baseless negative comments.
Utilize Parental Control Tools
Parental control tools, like the Safes parental control app, can be instrumental in managing your child's exposure to online environments. With features like content filtering, screen-time management, and app blocking, these tools can provide safer online experiences for children.

Safes is offered both free and paid. The paid version has, of course, more features to protect your child. If you're interested in trying it, feel free to download it from our website or Google Play and AppStore. Also, make sure to read these pages linked below to learn about how to put parental controls on different platforms:
Boosting Your Child's Confidence to Overcome the Fear of Online Judgment
While the strategies above establish the foundation for dealing with the fear of judgment, boosting your child's confidence is the key to overcoming this fear. Here are some strategies to consider:
Build on Their Strengths
Every child has unique strengths. Identifying and nurturing these strengths can significantly boost your child's confidence. Encourage them to pursue activities that align with their abilities and interests.
Encourage Risk-Taking
Taking calculated risks can help children learn that failure isn't something to be feared but a stepping stone towards success. This perspective can make them more resilient to judgment and criticism.
Promote Positive Affirmations
Positive affirmations help build confidence and self-belief. Encourage your child to use phrases like, "I am confident in my abilities" or "I am more than my mistakes" to help them develop a positive self-image.
Be a Role Model
Family is the whole world for young children. They look up to you as their parent and copy your behavior. If you display a strong and confident person who's not intimidated by people's judgments, your child will learn that from you. Besides, your child feels more confident if they have a strong mommy or daddy who they can rely on in times of need.
Conclusion: Overcome Fear of Being Judged
Helping your child overcome the fear of online judgment is a challenging but crucial aspect of modern parenting. Support your child emotionally, help them build the necessary skills, and use tools like Safes to guide them on the path of becoming a confident and resilient individual. You can't eliminate people's judgments, and, in fact, sometimes they can be beneficial. But the point is to help your child become strong in the face of judgment and discern positive criticism from abuse.