In an era where virtual learning is the norm, 'Should students have more online privacy?' is a question that begs attention. The increasing incorporation of technology in education has raised considerable concerns surrounding student data privacy. While technology has transformed the learning experience, it has also heightened the risk of privacy breaches, making it necessary to address student data privacy problems and challenges.
What Constitutes Student Data?
Student data refers to the collection of information about individual students, gathered and stored by academic institutions, technology providers, and other stakeholders. Student data examples can range from academic records, disciplinary records, age, and location, to granular details like the time taken by a student to complete a task, collected from apps, websites, and other online services.
Why Is Student Privacy Important?
What are students' attitudes toward data privacy? According to a study by the National Association of Student Personnel Administrators and the think tank New America, students trust their institutions to protect their data. However, apprehensions arise when third-party tools are involved. Given the sensitive nature of the information, it's critical to understand why is student privacy important, and why schools should prioritize it.
Student privacy safeguards students from various threats such as violence, stolen identities, and other potentially harmful consequences. That's why data privacy is important to teachers and students. Schools should prioritize student privacy to ensure the safety and security of their students, teachers, and staff. Moreover, protecting student privacy is also about maintaining trust in the education system. Furthermore, prioritizing student privacy aligns with IT regulations for schools top priority, which is information security. This not only helps avoid legal complications but also helps maintain the reputation and integrity of the educational institution.
Privacy Concerns in Schools
In the current digital age, schools invading students' privacy is a pressing concern. The need for academic institutions to collect and maintain a vast amount of student data leads to potential privacy breaches. This data includes academic standings, discipline referrals, socioeconomic status, and much more. Often, schools rely on third-party ed tech providers to safeguard this information, which raises further privacy concerns.
Schools can safeguard students' privacy by:
Being transparent about how they use the data
Limiting its use to its intended purpose
Restricting access to authorized individuals
Balancing Privacy and Safety
Educational institutions are faced with the delicate balancing act of ensuring students' privacy rights in school while maintaining their safety. A safe and secure online environment is essential for promoting effective learning. However, the increase in online threats against students and data breaches necessitates more sophisticated monitoring systems.
Legal Aspects of Student Online Privacy
Several federal laws, including the Family Education Rights & Privacy Act (1974), the Children's Online Privacy Protection Act (2000), and the Children's Internet Protection Act (2000), mandate schools to protect student privacy. However, these laws are often outdated or misunderstood, leading to ineffective implementation.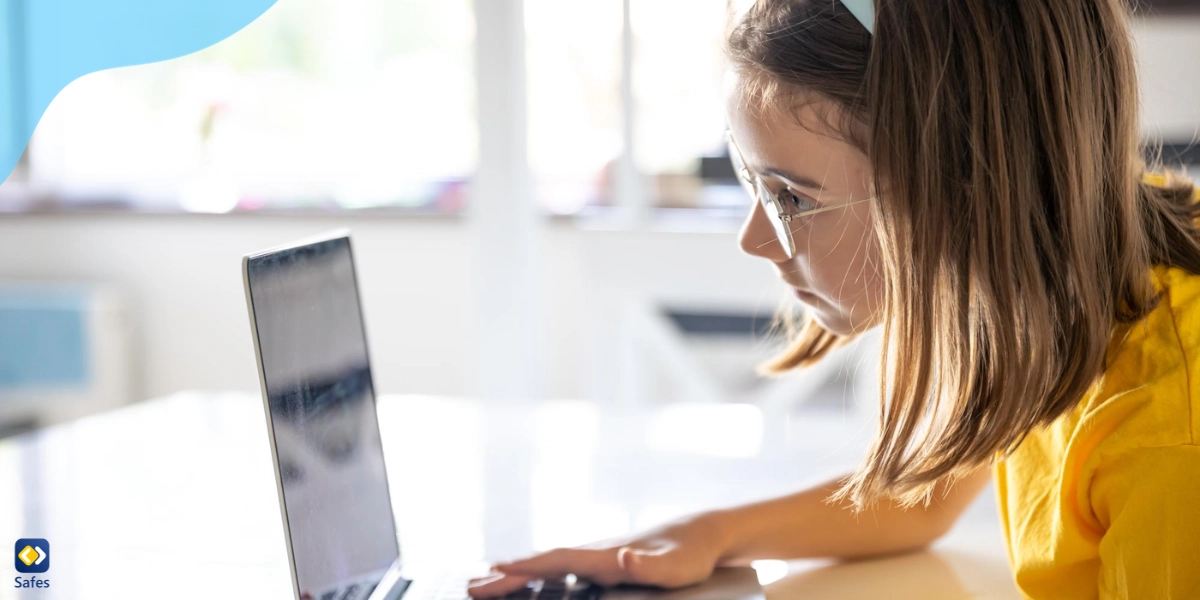 Enhancing Privacy in Schools: Solutions and Measures
One of the effective solutions to enhancing students' online privacy is through a rigorous process for vetting third-party platform providers. This includes ensuring that the vendor is aware of the best practices and is compliant with legal standards like FERPA (the Family Educational Rights and Privacy Act) and GDPR (the General Data Protection Regulation).
Schools can also safeguard student data by implementing privacy policies, such as working with their learning management system (LMS) vendor to develop learning tools interoperability (LTI) processes.
Introducing the Safe School App
The Safe School app is a digital tool designed to help administrators create a safe digital environment for students. It protects students from harmful content, apps, websites, and search keywords, ensuring a secure learning experience.
Try Safes School for your educational center today by contacting us.
The Role of Parents in Students' Online Privacy
Parents play a vital role in advocating for their children's online privacy. Parents should collaborate with schools to address privacy concerns and promote a safe digital learning environment for children at home. Read "Child Data Privacy: A Parent's Guide" on our website for more information.
The Future of Online Privacy in Education
As educational technology continues to evolve, privacy issues will remain a critical part of the conversation. Schools must focus on enacting security practices that empower students while keeping them safe throughout their learning journey.
More articles for schools: 
Conclusion: Should Students Have More Online Privacy?
Protecting students' online privacy is a complex task that requires the combined efforts of educators, administrators, parents, and technology partners. Schools must take proactive steps to address privacy gaps in their online learning models and collaborate with technology vendors that prioritize student data safety. By doing so, schools can create a more secure digital learning environment, safeguarding students' data, giving them more online privacy, while enhancing their learning experience.