Why do kids have imaginary friends? This question often arises in the minds of parents when their children introduce them to their invisible playmates. But before diving into worry or concern, it's essential to understand what imaginary friends are and their role in a child's development.
What Are Imaginary Friends?
Imaginary friends could take the form of entirely made-up characters, stuffed animals with personalities, or even characters inspired by popular culture. These invisible friends are often referred to as "social beings" due to their unique personalities, likes, and dislikes. They represent an important milestone in their cognitive development, marking a child's ability to conceptualize other social beings that behave and react independently of themselves.
When Do Kids Have Imaginary Friends?
Children start developing imaginary friends as they become socially aware. This typically begins between the ages of three and eight, but there are cases where imaginary friends continue into adolescence and rarely into adulthood. This imaginary play allows children to understand what people are like and how they behave and react in different situations. It's like stepping into a virtual reality without any equipment, a safe space for children to explore social processes and cause and effect in a low-risk environment.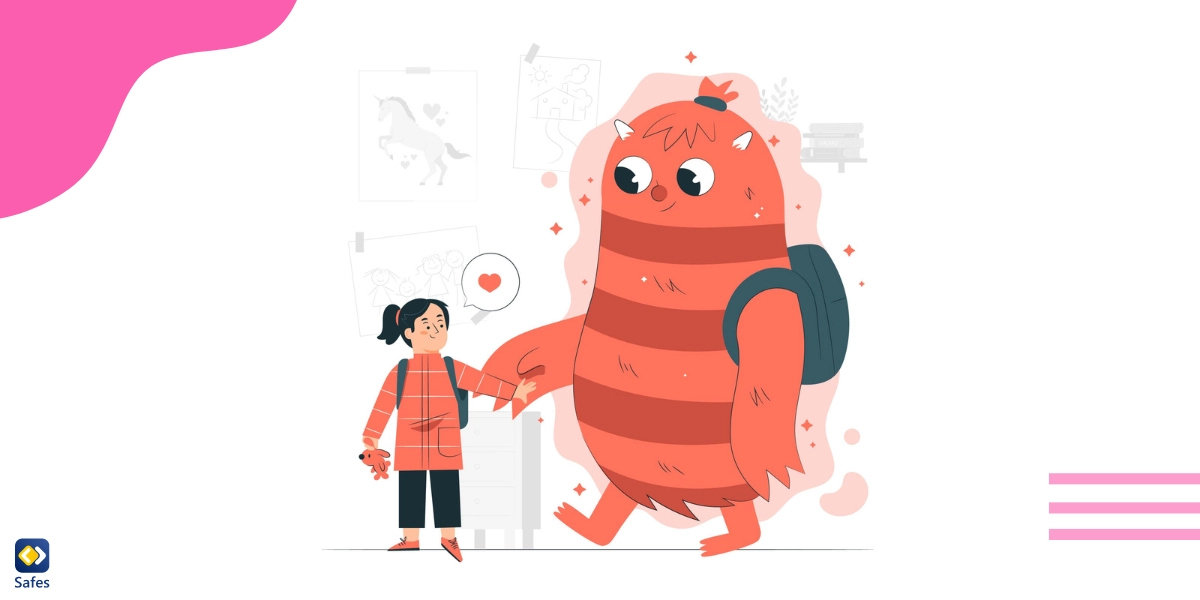 Are Imaginary Friends Normal?
Contrary to common misconceptions, having an imaginary friend is normal and even beneficial. Many cognitive researchers assert that the existence of these imaginary friends should not raise eyebrows among parents. Besides, it's also normal for your child not to have an imaginary friend. It doesn't pose a problem, either.
According to Cari Romm, author of "How Imaginary Friends Help Kids Grow," children are aware that their imaginary friends aren't real. Instead, they use these made-up companions as a way to exercise their imaginations. In fact, a 2004 study indicated that 65% of children have an imaginary friend at some point.
How Long Do Imaginary Friends Typically Last?
The duration of the existence of imaginary friends varies among children. While it's most common between the ages of three and eight, some children continue to engage with their imaginary friends into adolescence and occasionally into adulthood. Notably, the age at which people believe imaginary friends should disappear is mostly a cultural perception rather than a scientific one.
Are Imaginary Friends a Cause for Concern?
In most cases, imaginary friends are harmless and can even boost social and language development in children. However, there are instances when imaginary friends may cause worry. If your child begins to exhibit disturbing behavior or describes things they shouldn't know about, attributing them to an imaginary friend, it might be time to consult a pediatrician. Yet, these instances are rare. More often than not, imaginary friends serve as a sophisticated demonstration of a child's understanding of the social world around them.
How Can the Safes Parental Control App Help Your Child? 
In the digital age, the Safes parental control app can serve as a valuable tool for all parents. It helps monitor a child's digital activity, ensuring they are engaging in safe and age-appropriate online behavior. With the tools that Safes offers you, you're able to monitor how your child uses their phones, tablets, or computers. You're able to catch unusual behaviors, which could also link to having imaginary friends before they turn into a serious problem. And this is only part of the parental control features that Safes offers.

You can use Safes on all major platforms (Android, iOS, Windows, and Mac devices). It's available for download on our website as well as AppStore and Google Play. Follow the resources below to learn about how to put parental controls on different platforms and devices using Safes:
Conclusion: Why Do Kids Have Imaginary Friends?
Understanding why do kids have imaginary friends can help you navigate this phase of your child's development. Imaginary friends often serve as a tool for children to explore and understand their social world. While they can occasionally cause worry, it's important to remember that they are typically a normal and healthy part of childhood. And with tools like the Safes parental control app, you can ensure your child's overall wellbeing, both in the physical and digital world.