What's the fastest-growing platform in human history? It's Threads! Threads gained around 80 million users within its first two days after launching this month. It broke a record previously owned by ChatGPT. This surge of users is due to Threads' link to Instagram. Both these apps are developed by Meta, the giant social media company that also owns Facebook. Millions of users of different ages rushing to sign up to Threads makes us wonder, "Is Threads safe for children?"
The fact is that Threads being a new and untested platform, is prone to making safety risks for young users. Naturally, most parents still have little knowledge about what Threads is and how it works. So, here at Safes, we decided to waste no time introducing Threads to you, parents and caregivers, and delve into its safety risks for children so that you can make an informed decision about letting your child use the platform or not. So, as always, follow us through this parental guide.
What Is Threads?
If you have used Twitter or know how it works, you already know a lot about Threads. Rumor has it Meta wished to take over Twitter; that's why they created something which replicates most of its features. In Threads, you can share short texts and videos as well as pictures publicly or just with your private network. You have a maximum 500 characters limit for texts and 5 minutes of duration for videos that you post. Like Twitter, you can use hashtags, mention other users, reply to others' posts, and send private messages.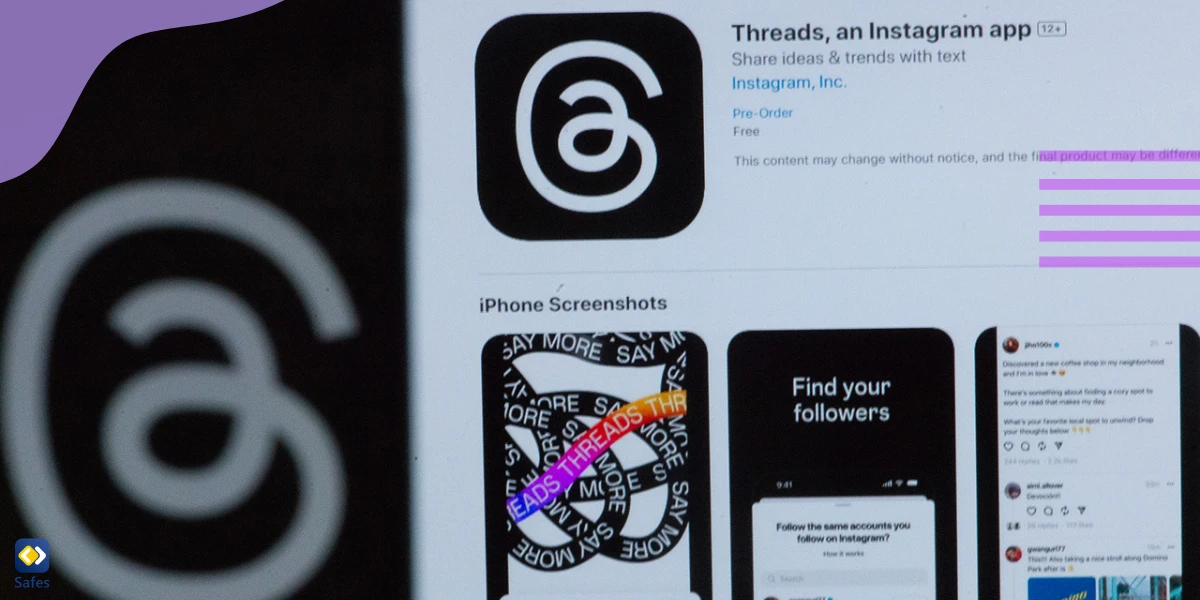 Safety Measures and Parental Controls on Threads
What's the age limit for Threads? 13, just like Instagram. So, you can simply use your Instagram credentials to sign up for Threads, follow the same people you followed on Instagram, and start Threading. You can also import your bio, display name, and profile picture from Instagram. Although, you can later change them separately.
When you sign up, Threads asks you if you would like a public account or a private one. You can choose either one but later change it. If you choose a private one, then you can go into the settings to modify a range of complementary privacy settings, such as who can message you or send you follow request.
Most of the settings you get there are identical to Instagram's privacy settings, so we strongly suggest you read our article: How to Make Instagram Safe for Children
As you can see, these were Thread's privacy settings. Privacy settings are really helpful in warding off unwanted interactions on social media, but they don't count as parental controls. Why? Because they're meant to be modified by the user anytime they want. That means your child can later revoke your settings, even make their account public if they want.
So, does Threads have any parental control in place? Yes, sort of. It has the same parental controls as Instagram. Instagram has recently added a new feature called "Supervision" to let parents monitor and control their children's interactions and screen time. The same feature is available on Threads.
To set up Threads's supervision, you first need to go into your own account's settings, then invite your child to pair with your account. After they accept your invitation, you can set how much time they can get to scroll through posts, and you'd be notified who sends them follow requests or whom your child interacts with.
Speaking of screen time, Threads has another feature called "Take a Break." It's a self-monitoring feature available on all accounts to stop oneself from spending too much time scrolling. It can be a beneficial feature for adults, but if you set up Threads' supervision, you don't need that on your child's account anymore. For a step-by-step guide on how to set up supervision and other parental control settings on Threads, read our article: Setting Up Parental Controls on Threads: A Parental Guide
Keep in mind it's best to have an open chat with your child about privacy issues and internet safety before starting to monitor their Threads activity. Basically, the supervision feature is something that the child should be aware of. God forbid you're not trying to spy on your child!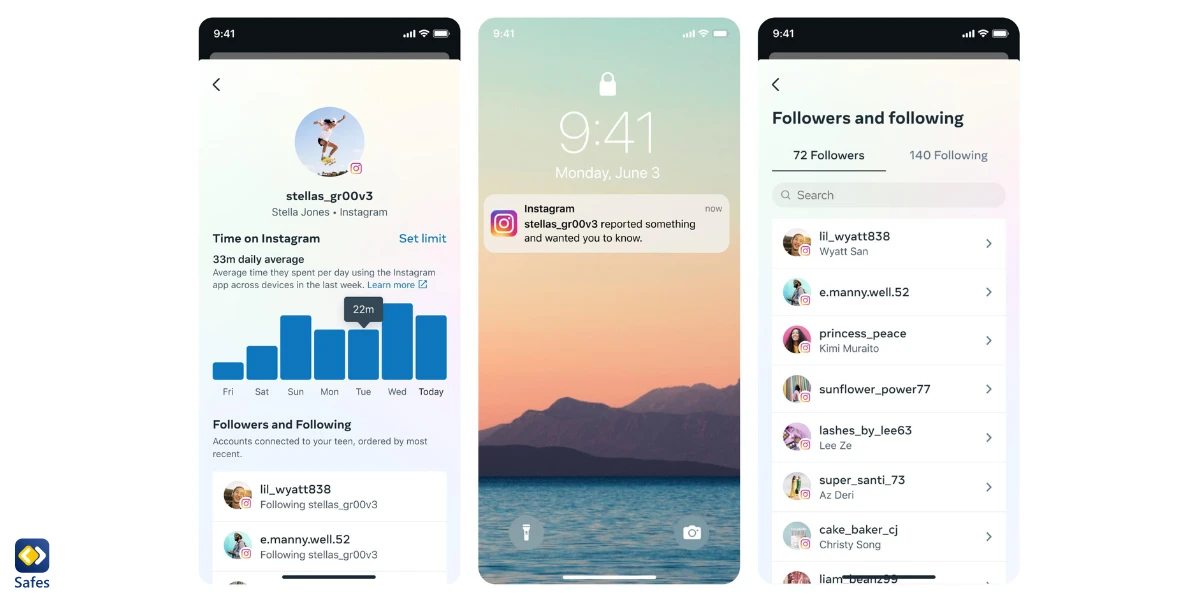 Tips for Ensuring Safe Usage
There's one thing we always suggest to parents before they let their children use any social media platform, and that's teaching social media etiquette. So, make sure you read our blog "Crucial Social Media Etiquette and Rules for Kids to Follow." With these tips, you'd arm your child against almost any cyber safety issue on social media. We also have another guide called "13 Online Etiquette Rules Every Parent Should Teach Their Child," which focuses on teaching children how to behave in the online world in general. That, too, is a must-read.
Alternatives and Additional Safety Measures
What if I want to stop my underage child from using Threads? You're right to be worried about your child who is under 13 to sign up and use Threads because Threads _like most social media_ doesn't verify users' age. That means a younger child can fake their age and sign up on Threads. Besides, every kid has special needs, which means your child could be 13, but you still consider the world of social media too risky for them. In such cases, you can block Threads or any other app on your child's phone, tablet, or computer. And you can do that without prying on their privacy. How? With Safes!
How Does Safes Make the Internet Safer? 
Safes is a parental control app to help parents like you monitor their children and shield them against online risks. This app works on all devices across platforms like Android, iOS, Windows, and Mac. So, you can use one single app to protect your child on all devices. After installing Safes Kids _a Safes companion app_ on your child's phone, tablet, or computer, you don't need to touch those devices again because everything is manageable remotely right from your own phone or computer.

Using Safes, you can monitor your child's device and internet use, block harmful apps, and set screen time limits. You can use Safes instead of Instagram's and Threads' supervision feature because Safes can monitor your child's activity on social media and set screen time limits at the same time. Once you set your healthy limits, there would be no need to go through the settings of each app that your child uses.
If all these interests you, you might want to check out how to set parental controls on different platforms using Safes. Follow the links below:
Are There Safe Alternatives for Threads?
If your child is below 13 or you consider the Threads app too risky for your child, there is still a way your child can enjoy social media. There are these safe social media for kids that are free of almost any online safety risks. Examples are:
You can find a comprehensive list of these apps and why we claim they're safe for your child in this article: Are There Safe Social Media for Kids?
Final Word: Is the Threads App Safe?
Social media's safety mostly depends on how you use it. Again, we suggest reading our post on social media etiquette for kids. If you want a final verdict on "Is Threads safe for children?" Instagram's Threads is safe for your child as long as they follow social media etiquette, such as making their account private and limiting interactions to people they know in the real world. It's a good idea to let your above-13 child use this platform with parental control and privacy settings in place. As they grow up, you can gradually draw back some of your settings and finally let them take over full control. Happy scrolling!