Technology has become a crucial component of our everyday lives. It also holds true for the younger generation, who seem to be born with an innate understanding of the latest gadgets. As a result, integrating technology for kids into their daily lives and learning processes has become an essential task for us grown-ups. "What is the definition of technology for kids?" and "How to create positive technology activities for kids while also sustaining their well-being and safety" are what we'll discuss in this blog.
Technology and Kids: An Inseparable Bond
Kids these days are growing up in a world where digital devices are as common as toys. The list of tech gadgets that children interact with daily is endless. The rapid pace of technological advancement may seem overwhelming, but we should understand that these devices can offer numerous benefits when used appropriately.
The Ubiquity of Technology in Children's Lives
Children have access to screens all around them. From TV sets to computers, tablets, and phones, digital devices are everywhere. The average child aged 8-10 spends almost 8 hours a day with various forms of media, and teenagers spend nearly 11 hours (American Academy of Pediatrics). This trend shows no signs of slowing down.
Learning with Technology
Technology provides a myriad of opportunities for learning and development. For instance, numerous educational apps and software can help children enhance their vocabulary, improve their math skills, and even learn about complex scientific concepts. Moreover, technology has become a critical component of the modern classroom, assisting teachers in delivering lessons more engagingly and efficiently.
The Impact of Technology on Kids
While technology can offer numerous benefits for children's learning and development, we must understand the potential risks and challenges associated with its use.
Negative Effects of Technology on Children
Some of the potential negative impacts of technology on children include:
Increased risk of depression
Obesity due to reduced physical activity
Falling grades due to excessive media consumption
Social interaction issues due to excessive screen time
Cyberbullying on social media and other online platforms
Positive Effects of Technology on Kids
Conversely, technology can have several positive effects on children's development. It can:
Improve multitasking
Enhance visual-spatial development
Boost problem-solving and decision-making skills.
Furthermore, technology can prepare your child for future tech careers by helping them acquire critical digital skills early on.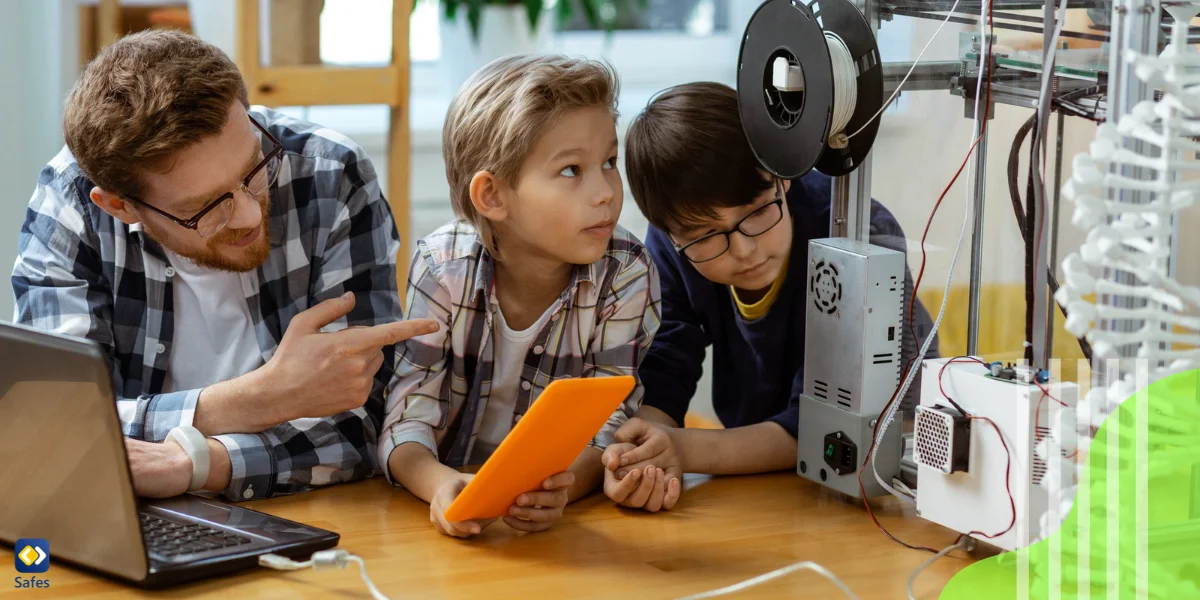 Popular Tech Products for Kids
Find below some of the various types of tech products specifically designed for children.
Educational Tablets
Educational tablets are child-friendly devices pre-loaded with educational apps, games, and e-books. These tablets often come with parental controls for safety and screen time management. They are designed to make learning fun and interactive. Some popular options include the Amazon Fire Kids Edition and LeapFrog Epic Academy Edition. These devices can help foster a child's reading, math, and problem-solving skills while also promoting creativity and independent learning.
Coding Toys
Coding toys like the Botley Coding Robot and Code-a-pillar Twist are fantastic tools for teaching children the basics of coding. These interactive toys stimulate logical thinking and problem-solving skills. They are designed with a hands-on approach, encouraging children to physically engage with the toy to understand coding concepts. This method makes learning coding more accessible and entertaining for children.
Smartwatches
Smartwatches for children, such as the VTech Kidizoom Smartwatch, offer a multitude of functions that are both entertaining and educational. These devices can teach your child how to tell time, take photos, record videos, and play games. They also come with fitness tracking features that encourage physical activity. In addition to these, smartwatches can aid in developing responsibility and time management skills.
Electronic Learning Systems
Electronic learning systems, like the VTech Touch and Learn Activity Desk Deluxe, are multi-functional educational tools. They provide interactive learning cards, touch pages for exploring letters, numbers, and colors, and even have a chalkboard for drawing. This tech product enhances fine motor skills, literacy, numeracy, and artistic skills, offering a comprehensive learning experience.
Augmented Reality (AR) Toys
AR toys, such as the Shifu Orboot Earth AR Globe, bring an interactive dimension to learning. These toys use smartphones or tablets to overlay digital information onto physical toys. They can help your child learn about geography, history, culture, and more in a fun, engaging manner.
E-readers
E-readers like the Kindle Kids Edition are excellent tools for encouraging reading. They have access to a vast library of age-appropriate books and come with features like word definitions, translations, and adjustable text sizes. This tech product can help develop a love for reading, enhance vocabulary, and improve comprehension skills.
Virtual Reality (VR) Headsets
VR Headsets like the Oculus Quest 2 give children the ability to explore virtual worlds and experiences. They can be used for educational purposes like virtual field trips, science experiments, and more. VR headsets can promote curiosity and a better understanding of complex concepts.
The Right Way of Using Technology for Your Child
When choosing tech products for your child, it's essential to consider factors such as:
The child's age
The product's educational value
Its potential risks
Age-Appropriate Tech Products
Selecting age-appropriate tech products is crucial in ensuring your child has a safe and beneficial experience with technology. For instance, younger children might benefit from educational apps that offer interactive learning experiences. In contrast, older ones might benefit from devices that allow them to explore coding or robotics.
Balancing Tech Time with Other Activities
While technology can be beneficial, it should not replace other essential activities such as physical play, social interactions, and real-world learning experiences. Ensuring a balanced approach can help your child reap the benefits of technology while minimizing potential risks.
Ensuring Online Safety and Privacy
Given the potential risks associated with internet use, ensuring your child's online safety and privacy is paramount. This can involve:
Setting up parental controls on devices
Regularly monitoring your child's online activities
Educating them about safe online behavior
Limiting their screen time
Balance and Safety in Technology with the Safes Parental Control App
To help parents navigate the digital landscape, the Safes parental control app offers a comprehensive solution for monitoring and limiting children's screen time and online activities. Safes allows you to set time limits, block inappropriate content, and receive reports on your child's online activity to provide peace of mind as your child explores the digital world.
Feel free to explore the array of Safes features by downloading it from our website, Google Play, or App Store.
Wrap-up
Like any other tool, technology can be used for good and bad. You have the responsibility to guide your child in using it in a safe, beneficial, and balanced way. If you do so, you can help them harness the potential of technology to learn, grow, and prepare for a future in which technology will play an even bigger role.