Virtual YouTubers, or VTubers, are taking the world of content creation by storm, becoming an increasingly popular form of entertainment among children and teenagers. VTubers are essentially content creators who use animated avatars instead of physically appearing on screen. These avatars mimic the creator's movements and voice in real time, creating an interactive and engaging experience for viewers.
VTubing originated in Japan and has since gained global traction, particularly among young audiences who are drawn to anime-style characters and the interactive nature of the content. However, as a parent, it's crucial to understand the potential risks and benefits associated with VTubers, and how to ensure your child's online safety.
VTubers: Diversity and Types of Content
VTubers offer a wide range of content, from gaming and live streams to Q&A sessions, music videos, and more. The appeal of VTubers lies in the diversity of their content, the unique personalities they create, and the interactive nature of their channels.
The VTuber community is incredibly diverse, with thousands of VTubers creating content that appeals to different demographics. Some VTubers opt for a cute, kid-friendly persona, while others create more mature content. As a parent, it's important to be aware of the kind of VTubers your child is watching and ensure the content is age-appropriate. You should especially keep an eye out for porn streaming VTubers and NSFW VTubers. NSFW, by the way, means Not Suitable For Work. It's a term meant to give a warning to adult viewers to open these videos in a private setting.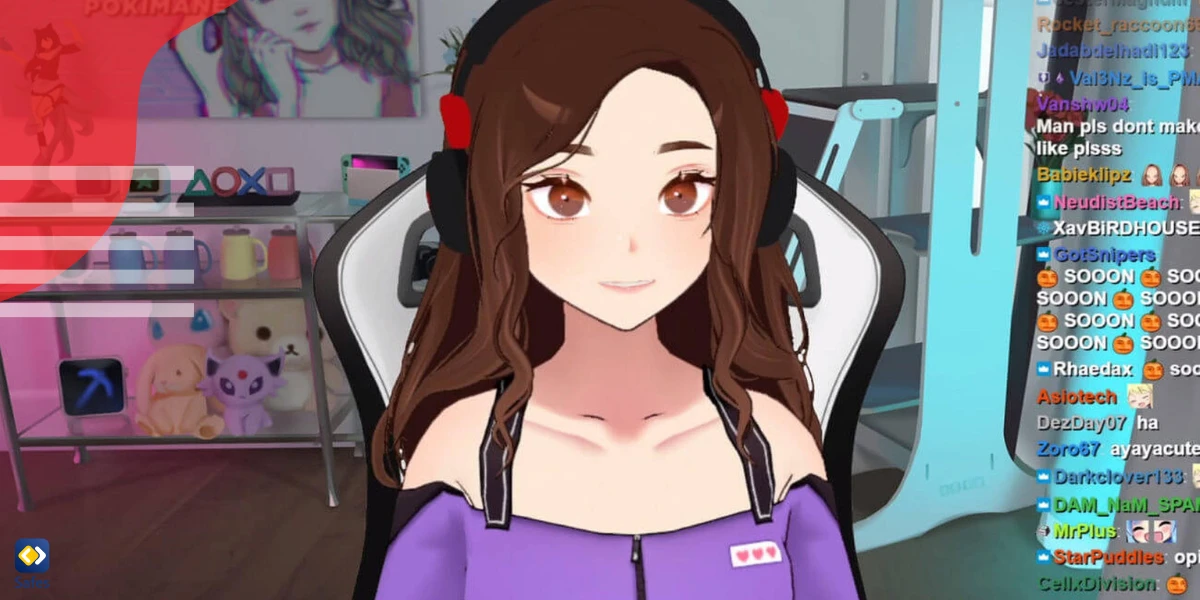 VTuber Personalities: Influences and Role Models
VTubers often create unique, engaging personalities that appeal to their viewer base. These personalities can have a significant influence on young viewers, shaping their interests and behaviors.
Popular VTubers like Gawr Gura and Senniursa have cultivated a large following with their unique personas and engaging content. While many VTubers can serve as positive role models, promoting creativity and individuality, others may not be as suitable for younger audiences. Monitoring your child's viewing habits and discussing the content they watch is crucial.
Safety First: The Importance of Parental Involvement
As with any online platform, parental involvement is critical to ensuring your child has a safe and positive experience with VTubers. The live, uncensored nature of VTuber content means there's always a chance for inappropriate content to slip through.
Talk to your child about the VTubers they watch and take the time to watch some of the content with them. Discuss internet safety and the importance of not sharing personal information online. It's also crucial to teach your child critical media literacy skills, such as recognizing when content is sponsored or promotional and understanding the difference between online personas and real people.
Evaluating VTuber Channels: Red Flags and Safety Measures
While many VTubers create fun, engaging content, there can be potential red flags to watch for. Some VTubers may use adult language, discuss mature themes, or engage in negative behaviors. Evaluating the VTubers your child watches and ensuring their content aligns with your family values and guidelines is essential.
One safety measure is to watch VTuber videos with your child and discuss any inappropriate content or behaviors you observe. Encourage your child to come to you if they see something that makes them feel uncomfortable. Remember, it's not just about restricting content but also about teaching your child how to navigate online spaces safely and responsibly.
VTubers and Educational Content: Learning with Virtual Personalities
So far, we've mostly talked about the risks associated with VTubers. You might be wondering, "Are there child friendly VTubers?" The answer is yes. Many VTubers on YouTube create amazing content for children. While entertainment is a major draw for VTuber channels, many VTubers also offer educational content. Some VTubers incorporate elements of learning into their videos, such as language lessons, STEM concepts, or history facts. This can be an engaging way for children to learn new things and expand their knowledge.
It's worth exploring educational VTubers with your child and encouraging them to watch content that is both fun and informative. This can be a great way to balance leisure time with learning. Here is an example from TV Aye:
Managing Screen Time: Setting Limits for VTuber Viewing
Just like any screen-based activity, it's essential to manage your child's screen time when watching VTubers. Establish clear boundaries around when and for how long your child can watch VTuber videos, and make sure they also have plenty of time for offline activities.
Consider using a parental control app like Safes to manage screen time and set viewing restrictions. This can help ensure your child has a balanced digital diet and is not spending excessive time watching VTubers.
Using Safes Set Viewing Restrictions and Screen Time Limits
Safes is a comprehensive parental control app that can help you manage your child's digital activities, including their VTuber viewing habits. With Safes, you can set screen time limits, block inappropriate content, and monitor your child's online activity.

Some of the features of Safes include:
Web Filter & Safe Search
Screen Time Limit & Schedule
Location Tracking & Driving Report
App Blocker & App Activity Tracker
YouTube Monitoring & Video Blocker
Social Media Texts & Porn Images Alerts
Try Safes for free on Google Play and App Store!
Safes works on all Mac, Windows, Android, and iOS devices. To learn how to put parental controls on each of these platforms, use the following resources:
Promoting Responsible Media Consumption
While VTubers can offer a fun and engaging form of entertainment, promoting responsible media consumption is essential. Teach your child to critically evaluate the content they consume and encourage them to seek out diverse and educational content.
Discuss the concept of online personas and the difference between these personas and real people. As excessive screen time can hamper children's development, encourage your child to maintain a healthy balance between their online and offline activities. Finally, make sure they understand the importance of privacy and safety online.
Final Words About VTubers
VTubers offer a unique form of entertainment that appeals to many children and teenagers. While there are many positive aspects to VTubing, it's crucial for you to stay involved and ensure your child is consuming age-appropriate and safe content. By setting clear guidelines, using tools like Safes, and promoting responsible media consumption, you can help ensure your child has a positive and safe VTubing experience.