It's July 2023, and everyone is talking about this new social media platform: Threads! But what makes Threads so important? It's because although only a few days have passed since it's been launched, millions of people have already rushed to join it. Who are these people? Users of Instagram who are thrilled to try out the new product that Meta, the social media giant that developed Instagram, Facebook, and now Threads, has brought them. Among them, there are millions of children _perhaps your child included. That's why many parents are concerned about the new platform's safety for their children. Most of us know how to put parental controls on older apps, but what about this new one? How to set up Thread parental controls?
You don't need to worry because we've put up a parental guide on how to set up parental controls on Threads. We'll first discuss what safety options Threads offers and then explain how to use third-party apps to make Threads extra secure. Wonder what it is we're trying to protect your child against? You might want to check out this article: Is Meta's Threads App Safe for Kids?: A Parental Review
How Does Threads Work?
Threads is a rival to the well-known micro-blogging social media platform Twitter. Like on Twitter, you can share small pieces of text, pictures, and videos. You can like, comment, and share/repost other users' Threads. You can also follow and message other users. These features are all amazing, but do you know what risks they can create for your child?
Just as we've seen on other platforms, comments can be hotbeds for cyberbullying, hate speech, and offensive remarks. Also, private messages can turn into a hub for scams and dangerous people targeting children. Not to forget that despite Threads' regulations against sharing explicit content, you can still find tons of posts with content that is shocking even for the writer of these lines!
What Does Threads Offer to Mitigate Its Risks?
What makes Threads unique is that it's closely linked to its sister platform, Instagram. So, most of the community guidelines that apply to Instagram apply to Threads as well. First off, it bars minors under 13 from signing up and joining the platforms. Albeit, it does not have an age verification process, so younger children can fake their age and start Threading.
Most of the safety, privacy, and security options that Threads offer apply simultaneously on Instagram, and you should use your Instagram account to modify them, which means you may want to read this article as well: How to Make Instagram Safe for Children
Some of the options that you have include:
You can access all these settings by opening your child's Instagram account, tapping their profile picture, tapping the three horizontal lines, and tapping "Privacy and Settings."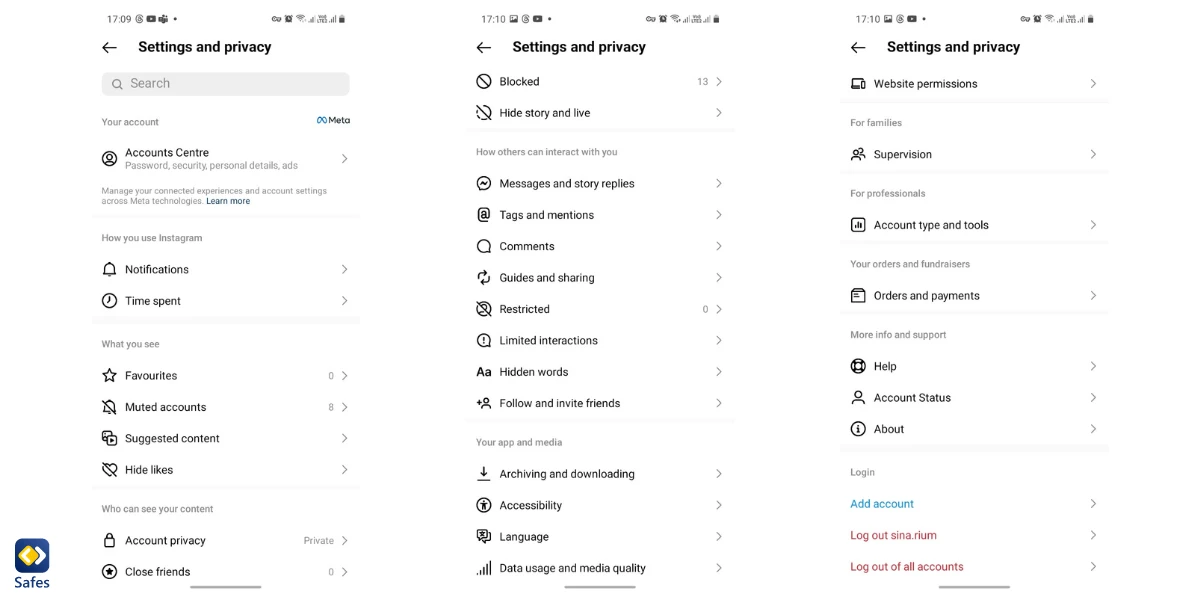 These options were privacy settings offered to any Meta account. That means the user can choose to modify them anytime they want. But Threads does have some parental controls. It's called "Supervision."
Threads' Parental Controls: Supervision
If you open your Threads account, you'd find an option that reads "Supervision." It's a new feature that allows parents to monitor their children's Meta accounts. If you tap on it, the Instagram app will pop up with instructions on how to pair your child's account with yours. After pairing is finished, you'd get options like:
Tracking time spent: You can track the amount of time your child spends on Threads.
Setting time limits: You can set time limits for your child's Threads use.
Viewing followers and followings: You can see who your child follows and is followed by.
Receiving notifications: When your child blocks someone on Instagram, you will receive notifications.
How to Set Up Supervision?
To set up supervision of your child's Threads account using the Supervision feature, follow these steps:
Open your Threads account
Tap profile account
Tap the two horizontal lines on the top right corner
Tap "Account"
Tap "Supervision"
In the panel that opens, tap "Get Started."
Find and select your child's account among your followers listed
Tap "Invite"
Threads will send your child an invitation link which is valid for 48 hours. You should use your child's account to accept the invitation.
Once the invitation is accepted and the accounts are linked, you will be able to supervise your child's activity, set time limits, view their followers and reported posts, and receive notifications for specific events.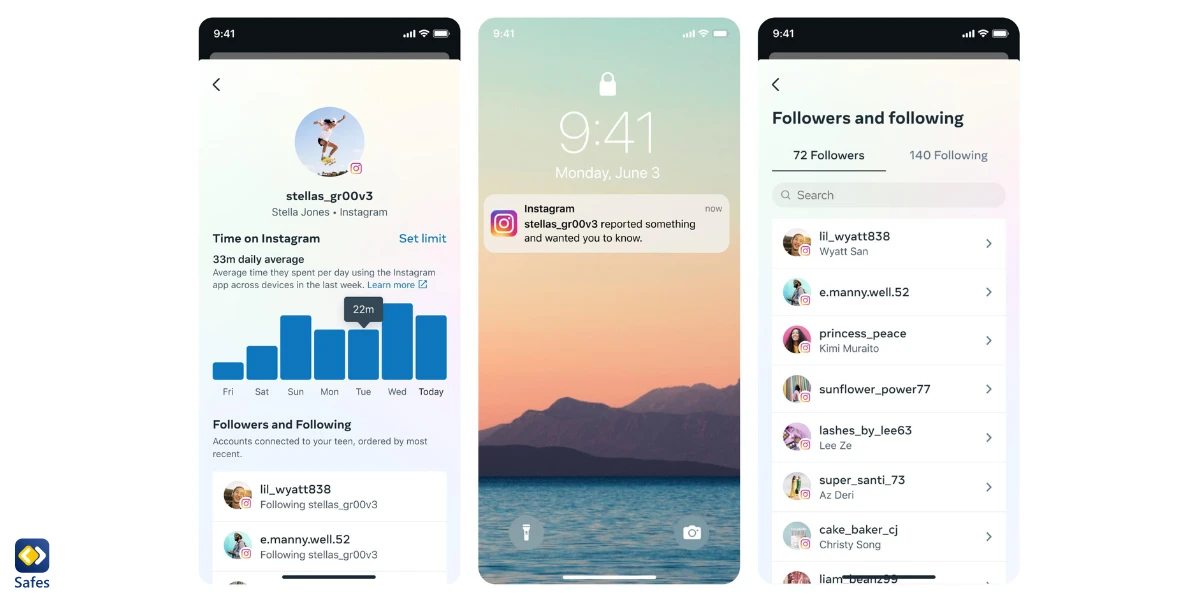 Note: Your child will need to approve the supervision request for the account to be linked, and they can turn off supervision at any time.
Best Practices for Safe Social Media Usage
As you can see, using parental controls and features like Supervision, which we have just explained, requires a high level of understanding between you and your child. So, before applying any sort of parental controls make sure you have an open conversation with your child about the risk of social media and the online world in general and why parental controls can help you and your child navigate these risks.
Nothing can protect your child better than letting them know what potential risks are out there in the digital world and how they can protect themselves. With a little bit of vigilance, children can fend off most of the risks online. So, make sure to teach them the different ways people with wrong intentions can approach them and what kind of behavior can put them at risk. A valuable source you can use is these two articles listed below about etiquette on social media and the internet:
Additional Resources
To teach your child about internet safety, first, you have to educate yourself. So, here are some useful links and resources for you related to online safety and parental controls:
How Can Parental Control Apps Help?
Parental control apps like Safes can complement your parental control settings and give you peace of mind knowing your child is safe online. With Safes, you can set time limits on your child's device usage, ensuring a healthy balance between screen time and other activities. The app provides real-time monitoring, allowing you to track your child's online activities and receive alerts for any potential risks or inappropriate content. Safes also enables you to block specific apps or websites that you deem unsuitable for your child's age or interests. That means you don't have to worry about your underage child downloading and using an app like Threads.
Safes also offers other tools that can protect your child in places other than social media platforms. Using the app's content filtering feature, you can protect your child from harmful or age-inappropriate content anywhere on the internet. Besides, Safes offers location tracking, allowing you to keep an eye on your child's whereabouts and ensure their safety.
Wish to learn how to use Safes to protect your child on different platforms such as Android, iOS, Windows, and Mac? Follow the links below:
Final Words on Threads Parental Controls
As a parent, it's natural to have concerns about the safety of a new platform like Threads for your child. However, there are measures in place to ensure their safety. Threads parental controls include features such as "Supervision," which allows you to monitor your child's Meta accounts. Besides, using third-party parental control apps like Safes can complement these measures and provide additional peace of mind.
It's important to have open conversations with our children about the risks of social media and the online world in general. By having a strong understanding and implementing parental controls, you can help your child navigate these risks and ensure their safety while using platforms like Threads.